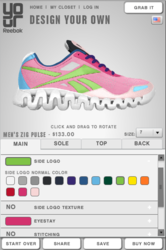 "Fluid Configure has opened up new, highly immersive merchandising opportunities for our product offering." — Rob Jellesed, director of internet sales and marketing at JELD-WEN Inc.
San Francisco, Calif. (PRWEB) November 16, 2011
Major brands worldwide are giving their customers the ability to add customization to an increasing range of products, from complex windows and doors, to high-end furniture, to everyday apparel and household goods. Previously, the technology to actually power online customization has been expensive and difficult to implement. Today, Fluid, the digital shopping innovator, is launching the latest version of Fluid Configure, an easy-to-implement customization platform that lets retailers give their customers the ultimate in product personalization.
Compared to custom built solutions, Fluid Configure is low-cost to implement and maintain, enables retailers to quickly add and manage customized products to differentiate themselves in the marketplace, and engage their customers like never before.
Fluid is demonstrating the Fluid Configure platform at the 2011 World Conference on Mass Customization, Personalization, and Co-Creation, November 16-18, 2011.
"There is a widespread trend toward giving consumers exactly what they want, from personalized communications to highly tailored digital experiences that give consumers a voice in how they interpret a brand," said Kent Deverell, CEO of Fluid. "Nowhere is this more apparent than in online shopping, and etailers are seeing huge ROI when a personalization experience is well executed. Fluid Configure lets brands meaningfully interact with their consumers, and consumers with each other, by enabling the creation of personalized, custom products on a mass scale."
Providing All the Data Necessary to Take a Custom Product from Purchase to Production
More than a simple customization tool, Fluid Configure is a sophisticated platform for managing online product customization, from the exceedingly complex to most basic design, with direct integration to ecommerce and manufacturing systems. Fluid Configure offers complete compatibility with existing infrastructure (ecommerce platforms, analytics services, and manufacturing and fulfillment systems), reducing integration time and effort.
"Fluid Configure has opened up new, highly immersive merchandising opportunities for our product offering," said Rob Jellesed, director of internet sales and marketing at JELD-WEN Inc. "We now have a platform that allows us to take a sophisticated and complex product offering and simplify the shopping experience. By using our knowledge of what options and features are important to our shoppers, we are able to provide a tool that is simple and intuitive to use. In addition, it offers selections that have meaning and relevance to the shopper's design needs."
Making Customization Fun with the Addition of Social Merchandising
These days, shoppers expect more from their online shopping experience. Fluid Configure adds a social dimension to online shopping:

Combines interactive merchandising and social shopping in a rewarding and immersive experience, giving shoppers free rein to explore and visualize their ideas in an accurate and realistic environment;
Allows custom designs to be published to Facebook, and Twitter, and shared via email and SMS, in keeping with Fluid's core focus on making shopping a social experience;
Is fast and highly responsive, offering instant color changes, zoom, multiple views, 360-degree rotations, and roll-over or click interactions. Fluid Configure is compatible across mobile and tablet devices, providing easy consumer access anywhere anytime without additional complexity for the manufacturer.
Designed To Be Managed By Business Users, Not Programmers
Unlike custom-built solutions, the Software as a Service-based Fluid Configure includes a flexible, intuitive and fully-customizable user interface and easy-to-use administration tools that provide easy management of the customization options by business users:

Make updates and changes without IT involvement;
Define and manage product attributes such as color and pattern options; and
Create starting-points to get shoppers involved quickly and to offer unique products ready for purchase.
Compatible with a Wide Range of Devices
Online shopping is no longer a desktop-only experience; consumers expect a full-featured ecommerce experience from any device. Fluid Configure is plug-in free and delivers the complete range of customization functionality on a wide range of mobile devices and tablets.
Availability
Fluid Configure is available for immediate delivery. For more details, visit http://www.fluid.com, call +1-877-343-3240, or email sales(at)fluid(dot)com.
About Fluid
Fluid is the leader in Digital Shopping Innovation, delivering highly branded ecommerce experiences that optimize conversion at every point of digital contact: web, social, mobile and in-store. We deliver these results through our Fluid Retail merchandising platform and custom agency engagements. Founded in 1999, Fluid customers range from mass-market retailers to luxury goods manufacturers and include winning brands such as: Reebok, Sears, Vans, Nine West, JELD-WEN Windows & Doors, and The North Face, among others. For more information, visit http://www.fluid.com, and follow us on Twitter @Fluid or Facebook/FluidInc.
###