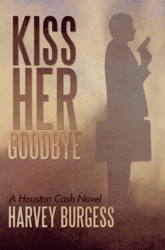 'Kiss Her Goodbye' offers twists and turns that pretty much could occur in any city.
Charlotte, NC (PRWEB) November 17, 2011
Does a first impression still have value?
Award-winning journalist and investigative reporter Harvey Burgess demonstrates that first impressions are not always what they seem in his new mystery-thriller, "Kiss Her Goodbye" (published by iUniverse).
"Kiss Her Goodbye" follows private eye Houston Cash against the backdrop of the author's hometown and past experiences as a police officer and crime beat reporter. Cash is thrust into a mystery that not only showcases some controversial characters but also sheds light on Charlotte, N.C., one of the South's fastest-growing metropolises that, among other things, is headquarters to some banking giants and locale of the 2012 Democratic National Convention.
"I'm a long-time fan of mysteries, and I thought that a character from my hometown could be just as exciting as anywhere else in the world," says Burgess. "'Kiss Her Goodbye' offers twists and turns that pretty much could occur in any city."
Kiss Her Goodbye is filled with both amusing and tragic characters and how they are ultimately affected by such things as money and happiness.
"A simple stalking case turns into an elaborate story of revenge, murder and mystery. That is Kiss Her Goodbye," says Burgess.
"Kiss Her Goodbye"
By Harvey Burgess
ISBN 978-1-4620-2803-0
Available at http://www.amazon.com and http://www.barnesandnoble.com
About the author:
Harvey Burgess is an award-winning journalist who has received numerous local, regional and national writing awards for his work as a reporter and columnist. A Charlotte native, his primary focus for most of his career was in coverage of crime and courts, though he has worked as a film and restaurant critic, travel writer, humorist and radio personality. In the middle of his journalism career, Burgess took time out to serve as a police officer in eastern North Carolina, having grown up in a "police family", in which his father was a career officer for 34 years. Burgess credits his love for reading and writing to his mother, who read to her six children and encouraged them to become avid readers of all types of literature. Burgess now makes his home in Charlotte.
###