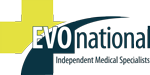 (PRWEB) November 16, 2011
EVOnational is proud to announce the launch of its independent medical specialist services, designed to meet and exceed industry standards on all fronts. Through its innovative approach to the IME business, EVOnational is poised to provide a wide range of groundbreaking custom online resources and tools that represent revolutionary advancements in the claims industry.
Services include IME coordination, electronic file and record preparation, quality assurance reviews, and physician seminars. Transportation and interpretation are also available as no-cost courtesy options. Supplementary services range from peer reviews to diagnostic evaluations—whatever is required to streamline the IME experience from beginning to end. EVOnational prides itself on being an IME company which employs an entirely paperless system.
EVOnational focuses on offering dedicated service to meet every client's unique needs while helping them save dramatic amounts of time and money throughout the IME process. Users receive a personalized online portal, providing access to features such as a virtual file cabinet and a National Physician Directory complete with informative bios.
EVOnational is headed by Seth Needelman, who holds two decades of experience in the IME industry. Passionate about quality service and an industry pioneer, Seth laid the groundwork for EVOnational when he discerned the key elements lacking in traditional IME processes: time management and cost savings tools. His expertise in corporate structure and client partnerships allowed him to establish EVOnational as the first true IME partnership.
Whether a claims professional, a physician, or a claimant, you are invited to tap into this exciting new opportunity and experience the superior service and state-of-the-art technology that makes EVOnational the global one-stop solution for IME claims management.
EVOnational is dedicated to streamlining the IME process and providing monumental savings for insurers nationwide. To get more information about EVOnational or to request an interview with a specialist, use their website or mailing address:
EVOnational
2510 Urbana Pike, Suite 101
Ijamsville, MD 21754
###