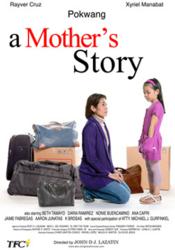 For TFC's initial offering, we dedicate 'A Mother's Story' to all the Filipino parents and children who continue to live and love apart
Redwood City, CA (PRWEB) November 15, 2011
Filipinos worldwide once again witnessed another first in Philippine cinema as TFC unveiled its very first foray into movie production with A Mother's Story.
Headlined by Pokwang, one the country's leading comedy sensations in her first dramatic role, A Mother's Story had its premiere showing at the Alex Theatre in Glendale on November 6 before enthusiastic crowds in two screenings.
Some 100 TFC subscribers, who were selected randomly, got a chance to have their pictures taken with the film's lead star, Pokwang, at the premiere's venue.
Filipino movie enthusiasts around the world are also getting their chance to witness Pokwang's transformation from a comic host to a dramatic actress when A Mother's Story was shown starting November 11 in major cities worldwide including Calgary, London, Madrid and Milan.
"We at TFC are overseas Filipinos ourselves so we live and breathe in the world our kababayans abroad are in. Thus, it's not enough to tell stories of Filipinos that come from the homeland through TV programs and movies, but also share those that come from us who have lived outside of it," said Kerwin Du, TFC North America's head of theatricals.
Du continued: "Film is one of the essential purveyors of narratives. The journey of the overseas Filipino is among the finest and richest sources of compelling stories that need to be told to the world. Hence, TFC's foray into film production is a natural and relevant progression of our mission to serve Filipinos wherever they may be."
A Mother's Story gives life to the story of Medy, played by Pokwang, a make-up artist who dares to make a life in the United States as an illegal immigrant in exchange for saving the life of her infant daughter.
The film focuses on the everyday sacrifices that millions of Filipino parents make as they leave their homes to find jobs overseas.
"For TFC's initial offering, we dedicate A Mother's Story to all the Filipino parents and children who continue to live and love apart," explained John-D J. Lazatin, the director of A Mother's Story.
Lazatin embarked on the journey of helming TFC's very first production as a way to honor his own mother. "She was a widow who also came to America and sought the American Dream to secure the future of her kids," shared Lazatin as he added that the film, "is very personal to me, having lost my mother during the post-production stages of the movie."
Beyond the universal themes of a parent's love and sacrifice, A Mother's Story also showcases both the travails and triumphs of illegal immigrant Filipinos.
Juxtaposed with their humiliation as they suffer from physical and emotional abuse from employers as well as the betrayal they experience from fellow kababayans are the kindness of strangers and the value of treating every human being with decency.
In returning to the Philippines, Medy is also forced to deal with the resentment of her oldest son King, who felt that his mother abandoned him seven years ago, while her seven-year old daughter Queenie treats her with innocent wonder.
TFC chose host and comedienne Pokwang to play Medy because her own personal life epitomizes the struggles of an overseas Filipino worker (OFW). "She does not just know it, she has lived it. She has a full grasp of what sacrifice means to the overseas Pinoy," Lazatin pointed out.
Lazatin praised Pokwang for her "authentic" portrayal of Medy. "Her performance in the film is a reflection of an honest and pure heart. Watching her, what is left is a thin layer between the reel Medy and the real Pokwang," Lazatin further shared.
Joining Pokwang are Nonie Buencamino, Daria Ramirez, Rayver Cruz, Ana Capri, Beth Tamayo and child sensation Xyriel Manabat. Screenplay is by Senedy Que, who also wrote the award-winning film, "In My Life".
For more information on the film's US and Canada screenings, please visit http://www.abs-cbnglobalmovies.com. For an Adobo Nation segment on the movie premiere with lead star Pokwang, please check http://www.youtube.com/watch?v=Tam9k8W1kZw
For high-resolution images of the cast and the film's promotional pictures, please visit
http://www.4shared.com/folder/uMwhKaEh/A_Mothers_Story.html.
About ABS-CBN International
ABS-CBN International was created over 15 years ago to be of service to all Filipinos. With the launch of The Filipino Channel (TFC), the company became the first and most successful Filipino content distribution company in the U.S. The company offers telecommunication, retail, theatricals, money remittance and cargo services, online audio and video streaming, IPTV, On Demand, along with philanthropic support for Filipinos and the communities they now call home. Based in Redwood City, CA, ABS-CBN International is a subsidiary of ABS-CBN Corporation, the Philippines' largest entertainment and broadcasting company, through ABS-CBN Corporation's wholly-owned subsidiary, ABS-CBN Global Hungary Kft. For more information, visit http://www.abs-cbnglobal.com.
###