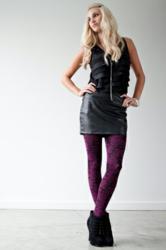 new playful prints, which are proprietary, and have never been seen before on compression hosiery
Lake Forest, CA (PRWEB) November 17, 2011
For all the women who hesitate to wear medical compression stockings for fear of looking frumpy or unattractive, there is a new, fashion-forward alternative from RejuvaHealth—an exciting new company that designs and sells fashionable alter-egos to traditional compression stockings.
Kelsey Minarik, age 24 is the founder of RejuvaHealth. Three years ago, Kelsey suffered a deep vein thrombosis (DVT) or a blood clot in her left leg. Luckily, she has since recovered, but to maintain good circulation and quality leg health her physician recommended she wear thigh high support stockings. Kelsey found she loved their function, but was discouraged by the lack of aesthetic options available to her. The only colors she could find were primarily white, beige, orthopedic-looking and restricting.
"Our products offer ideal support solutions for women who may refuse to otherwise wear such support hosiery for fear of its frumpy appearance," says Minarik. "We've also found that our new playful prints, which are proprietary, and have never been seen before on compression hosiery, have quickly made us a hit beyond those who wear support stockings for medical reasons."
With obesity, diabetes and other health ailments such as chronic venous disease (CVD) on the rise, the use and benefits of wearing attractive- looking compression stockings are becoming paramount. Stockings that provide graduated compression can help mediate swelling, pain and discomfort for those who experience these symptoms when standing or sitting for extended periods.
"Our stockings are ideal for women with on-your-feet careers and anyone who wants to maintain good leg health," explains Minarik. "RejuvaHealth products allow them to enjoy the preventative benefits of compression without feeling self-conscious about doing so!"
RejuvaHealth's launch collection offers six knee high patterns, four thigh high patterns and four compression pantyhose patterns. All of those items are available in four sizes (S, M, L, XL) and two compression levels. They are also FDA-listed.
For more information and to order products, visit http://www.rejuvahealth.com or call 877-7-REJUVA.
# # #