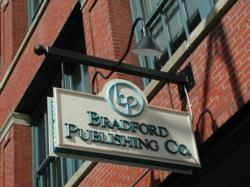 Denver, CO (PRWEB) November 21, 2011
The new Bradford blog is devoted to helping Coloradans solve common legal problems on their own and to demystify the use of legal forms to help run their businesses, their households, and their lives. The blog is designed to be a resource where individuals and businesses can find timely, topical and relevant Colorado-specific information about how to resolve legal issues they face every day.
The blog is intended to answer some of the questions people have about starting a business, leasing property, selling or buying a home, going through a divorce, entering a same-sex marriage, or creating a will, but does not provide legal advice or opinions. Bradford Publishing always recommends that consumers consult an attorney for help with their specific situation.
The marketing team at Bradford Publishing works closely with customer service to know which kinds of forms customers are asking about, watches the news for particular problems consumers are dealing with, and identifies common issues that attorneys are hearing about in their practices. From there they plan which topics to tackle in the weekly blogs.
Bradford Publishing is not a law firm, but works with many respected attorneys as authors. Count on them sharing their wisdom in this blog.
About Bradford Publishing Co.
Founded in 1881, Bradford Publishing Company is Colorado's oldest and most trusted publisher of legal information, including legal forms, electronic legal forms, law books, and statutes. With a retail store and offices in Denver's historic LoDo district, Bradford Publishing provides legal forms and reference materials on a variety of legal topics for attorneys, other professionals, and consumers.
Their commitment to quality is the cornerstone of Bradford's business philosophy and they regularly update the content of their books and other publications, so consumers can rely on the most accurate and current information available.
###