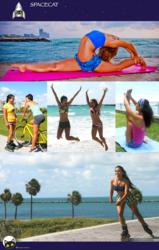 I love to wear shorts while I practice Ashtanga Yoga, and it has helped me develop much more inner strength. I also love bright colors and fun patterns
Miami Beach, FL (PRWEB) November 18, 2011
The environmentally conscious sportswear company SPACECAT INC introduces its unique and versatile line of shorts for women, taking sports activities to new levels of fun, comfort and sexiness. Owner, Japanese clothing designer Yumi Miyanishi, and internationally known Certified Ashtanga Yoga teacher Kino Macgregor united forces to create a new type of yoga wear called the Deepfold and the Kino Shorts, thus reinventing the common-place sports garment often seen at yoga studios and elsewhere.
Says Macgregor: "I love to wear shorts while I practice Ashtanga Yoga, and it has helped me develop much more inner strength. Instead of relying on the fabric to prevent slipping I have to find the strength from within. I also love bright colors and fun patterns, and I wear these colorful shorts so often that people asked me if I would one day make my own. So now I am happy to introduce these fun Yoga shorts in two styles designed by SPACECAT."
They are perfect for yoga, skateboarding, rollerblading, running, biking, working out at the gym and even sexy new trends like pole dancing. SPACECAT uses technologically advanced textiles, such as the moisture-wicking Supplex, which feels as soft as cotton but prevents stickiness during perspiration, and a high-performance lining called Coolmax for faster drying and a cooling effect during the activities of today's women. SPACECAT'S innovative Deepfold also uses an ingenious and versatile flap that can either fold down for low waist comfort or fold up for more tummy coverage. The Kino shorts offer a range of cool designs you won't see anywhere else. In "short" they are for women who love to work out and get stronger while still looking their best, inside and out.
"Having a fashion and active wear design background gave me the inspiration to create the kind of yoga and sportswear garment that I would want to wear to do my Ashtanga Yoga practice," says Miyanishi, who launched the line in May 2010 from her home in Miami Beach, Florida. "I shared my vision with many of my yoga friends, who supported and inspired me, and SPACECAT was born." SPACECAT specializes in shorts that have been created outside the box, literally! The site delivers its products in earth-friendly packaging, eliminating the use of wasteful plastics and individual tissue inserts. Also, all SPACECAT garments are happily and proudly made in the U.S.A. by a mother-and-daughter team passionate about the endless possibilities of working with such versatile designer.
About Spacecat:
Spacecat was created in New York City in 2000, when Yumi Miyanishi made a claymation short film called "Katzilla"
As a four year old, my favorite thing was making clothes for my Barbie doll! Always interested in fashion and being different, after I started practicing Ashtanga Yoga, I noticed what women were wearing. Seeing the same old yoga/athletic-wear everywhere I thought there must be other women who would like to dress differently to practice yoga or work out. Moving from New York to New Orleans and then to Miami Beach the idea of my own line gradually took shape.
With the encouragement and help of many friends I decided to use my background in fashion design and create yoga/athletic-wear that I wanted to wear.
Spacecat Inc was launched in June 2010 in Miami Beach Florida.
###