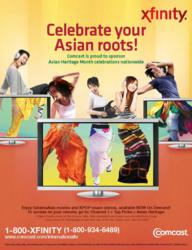 "Getting recognition from the general market – outside of the multicultural community – is a major accomplishment."
San Francisco, California (PRWEB) November 17, 2011
San Francisco-based multicultural marketing agency Améredia announced today that it won three awards in the 2011 international MarCom Awards competition that recognizes outstanding creative achievement in the marketing communications industry.
The Association of Marketing and Communication Professionals (AMCP) every year selects winners from over 6,000 entries submitted by corporate marketing and communication departments, advertising agencies, PR firms, design shops, production companies and freelancers. AMCP looks for entries that exceed a high standard of excellence and whose work serves as a benchmark for the industry.
"Getting recognition from the general market – outside of the multicultural community – is a major accomplishment," said Pawan J. Mehra, Améredia founder and principal. "We're gaining visibility within the advertising industry as a whole and we wouldn't be in this position if it weren't for our world-class creative team and support from clients, vendors and community partners."
Améredia received a Platinum Award, the highest MarCom honor, for a Comcast print ad celebrating Asian Heritage Month. The colorful ad features four youthful Asians of Chinese, Korean, Japanese and Filipino descent singing, dancing or playing music wearing traditional attire when viewed through an XFINITY TV. The ad depicts modern-day biculturalism across diverse ethnic groups and represents how XFINITY connects them to their Asian roots.
A South Asian Independence Day print ad for Comcast won a Gold Award, where two hands painted with intricate henna designs invite you to "channel your celebrations." The third award, an Honorable Mention, went to an eight-year anniversary print ad for Thunder Valley Casino Resort that plays on the significance of the lucky number eight in Asian cultures, using different Asian symbols to draw out the number.
The MarCom awards demonstrate Améredia's culturally-relevant creative expertise across a wide range of demographics and add to its list of industry-wide recognitions including the American Design, Communicator, Davey, Hermes, Mark, TELLY and other awards. The agency's multicultural and diversity-focused creative work, initiatives, growth and innovation have been lauded by other hallmark organizations such as the ADCOLOR Industry Coalition, American Advertising Federation, the Association of National Advertisers, Diversity Business, the National Association for Multi-ethnicity in Communications and the US Pan Asian American Chamber of Commerce.
About the Association of Marketing and Communication Professionals:
MarCom Awards is administered and judged by the Association of Marketing and Communication Professionals (AMCP). The international organization consists of several thousand marketing, communication, advertising, public relations, media production and free-lance professionals. AMCP administers recognition programs; provides judges; and rewards outstanding achievement and service to the profession. AMCP was founded in 1995 by a group of creative professionals involved in competitions for several of the national and international trade organizations.
About Améredia:
Améredia Inc. (http://www.ameredia.com) is a full-service multicultural advertising, marketing and public relations firm specializing in building brands within U.S.-based ethnic communities. The agency enables private, government and non-profit organizations to connect with Hispanics, Asians, Europeans, Middle Easterners, Pacific Islanders, Africans and other diverse cultural groups nationwide. Conceptualizing culturally engaging campaigns across print, TV, radio, online, outdoors, events, grassroots and social media platforms in over 20 leading languages, Améredia has positioned itself as one of the fastest-growing diverse market agencies nationwide.
###