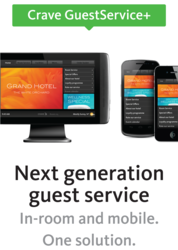 Crave is set to lead the fast growing market for hospitality emenu solutions.
London, U.K. (PRWEB UK) 17 November 2011
Crave Interactive Ltd, a leading innovator and vendor of smart emenu solutions, has been awarded "Best Hotel Solution" for Crave GuestService+, and "Best Technology Platform" for Crave Cloud at the iMenu Expo show in New York.
As part of the IHMRS (International Hotel, Motel and Restaurant Show) some 30,000 visitors attended the event at Javits Centre, New York. Crave was the only company to receive two awards, underlining its emerging status as a leading global technology company.
"We're delighted to receive such prestigious awards at an event that was attended by industry giants such as Micros and Agylisis," commented Crave Founder and CEO Gareth Hughes. "I am particularly pleased that our Crave Cloud platform has been recognised as best in class, and the response to our new Crave GuestService+ solution from major hotel groups has been extremely positive."
Founder of iMenu EXPO Carmine de Santos said "Crave's innovative technology and solution created great interest and excitement at the show. The success of iMenu Expo underlines the emergence of a large new sector, one that Crave is clearly positioned to be a leading player in."
Crave GuestService+ was launched at the show. It is a unique solution whereby hotel guests access a host of useful services via a stylish branded tablet when in-room and a Smartphone app when out and about.
Crave GuestService+ includes food and drink ordering for Room Service or in Hotel restaurants, bars, pool areas and conference rooms. Goods are charged to the room or paid by PayPal or credit card. Hotel bills can be paid without queuing for checkout.
Guests can access a vast range of concierge services in multiple languages wherever they are. Information on Hotel amenities is instantly accessible. Ratings and feedback are encouraged with integrated social media boosting the Hotel's on-line presence and providing valuable guest feedback. Loyalty club information is integrated and instantly accessible.
Hotels benefit from higher guest satisfaction, increased spend per customer and a brand interaction with the guest that lasts long after the visit. The Smartphone app continues to be useful to the guest after their stay, thereby extending the brand experience and enticing them to rebook.
Crave Cloud is Crave's proprietary technology platform that drives compelling services to Smartphones and tablet computers. A wide range of services are managed from any location by hotel and restaurant owners, providing an easy to use platform for driving greater sales and brand engagement with their customers.
Crave Cloud has clear web services interfaces and APIs to enable easy integration with corporate systems and third party services. As well as powering Crave's own solutions it is offered as a "white label" platform for use with other innovative services.
About Crave
Crave Interactive was formed in 2009. Its HQ is in London with offices in the Netherlands and New York. Crave's mission is to develop the very best emenu solutions for the hospitality industry.
Crave is currently the European market leader of emenu solutions with multiple installations and tens of thousands of items ordered via its systems per month.
In May 2011 Crave merged with Grenos b.v., a Dutch company that was an early innovator in mobile phone ordering technology. Crave's management team include Founder Gareth Hughes (ex FTSE100 Director with Psion plc) and Mark Gretton (ex Chief Technology Officer of TomTom).
Contact:
Claire Barrett, Product Manager, Crave Interactive Ltd
Claire.Barrett(at)crave-emenu(dot)com
+44 2030 516090
Gareth Hughes, CEO, Crave Interactive Ltd
Gareth.Hughes(at)crave-emenu(dot)com
Mobile: +44 7785 551196
Crave Interactive Ltd
14 Red Lion Square
London WC1R 4QF
###