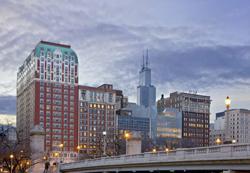 Chicago, Illinois (PRWEB) November 17, 2011
What will you be doing on Repeal Day 2011? The same thing they were doing on Repeal Day 1933 – having a drink! Celebrate the anniversary of the repeal of Prohibition with the Good to be a Gangster Package at the Renaissance Blackstone Chicago Hotel, complete with stylish accommodations, a DVD copy of Ken Burns' recent documentary Prohibition, and an official Gangster Tour where guides named "Al Dente" and "Shoulders" traverse some of the city's most infamous sites of that laughably "dry" era.
Fortunately it doesn't take mob connections to score a great hotel deal in Chicago these days. Inspired by fabled stories of notorious rum-running criminals past, the Renaissance Blackstone is offering the Good to be a Gangster package, including:

Overnight accommodations
Two tickets to the Gangster Tour
A copy of Get Capone signed by author Jonathan Eig
A copy of Ken Burns' Prohibition on DVD
A Prohibition Cocktail in the hotel's Mercat a la Planxa restaurant
The Good to be a Gangster package starts at $189, valid through March 2012, based on availability. To book, go to http://www.theblackstonehotel.com or call 1 800-468-3571 and mention rate code ZJL.
Toast the crazy days of Prohibition on Repeal Day, December 5. Upon check in, guests will receive a wink, a nod, and a card good for one drink at Mercat a la Planxa. The restaurant will be shaking and stirring special cocktails just for the anniversary of Prohibition's 1933 repeal, including the "Mint Julep," fashioned with whiskey or gin, and the "Snowball Cocktail," prepared with gin.
The Renaissance Blackstone Hotel is a fitting address to mark the end of Prohibition. Ten years before repeal, Charles "Lucky" Luciano gathered a group of gangsters at the Blackstone for the first-ever "Crime Convention" in 1923, or so the story goes. Luciano wasn't the only shady character to find comfort at the hotel. The godfather of crime, Al Capone, was a regular in the Blackstone's barbershop, and Brian De Palma's The Untouchables, based on Scarface's rise to power in the Second City, was filmed within the Blackstone's walls.
The Renaissance Blackstone Chicago Hotel
The Renaissance Blackstone Chicago Hotel is located in the heart of Chicago's arts and theater district and adjacent to Grant Park. The historic property, which has accommodated 12 U.S. presidents, is a Beaux-Arts architectural landmark offering 332 stylish rooms, among them the fabled Presidential Suite and legendary "Smoke-Filled Room"; the award-winning destination restaurant, Mercat a la Planxa, an original concept by Sage Restaurant Group serving Catalan-inspired cuisine; an extensive collection of contemporary art by emerging artists; a 23rd floor Concierge Lounge with sweeping views of Lake Michigan; and 12,000 square feet of meeting space, including the lavishly restored Crystal Ballroom. Opened in 1910, closed in 1999, and reopened in 2008 following a $128 million showcase restoration by Sage Hospitality, The Blackstone's décor is a dynamic mix of historic architecture and savvy design combined with luxury amenities and thoughtful guest services. For reservations: 1 888-236-2427; http://www.theblackstonehotel.com.
###