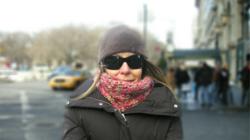 A girl with a song and a wish, and a million reasons to believe
New York, NY (PRWEB) November 17, 2011
New York based Australian Alison Ethell's song "December in New York", which is posted on Youtube, has made many feeling that December, in the greatest city in the world, is here already.
"It makes me happy to think that through a little song I can take people, who may never be able to experience it for themselves, to December in New York and all the wonderment it brings." Ethell said.
Alison's wish to Santa was to have her song sung at the Tree Lighting this year (30th November) by Harry Connick Jr. NBC has just announced the lineup for its annual Christmas tree lighting at Rockefeller Center in New York City which includes Tony Bennett, Justin Bieber, Michael Buble, Cee Lo Green, Faith Hill, Carole King, Katharine McPhee (Smash), Javier Colon (winner of The Voice) and the Radio City Rockettes, given that Mr Connick is not on the bill will someone else make her wish come true?
Maybe Michael Buble, Mr Christmas himself, will give Santa a helping hand? "It's only a song and it's only a wish, but in these tough times don't we all need a little something to believe in?" Ethell said.
You can find the video at:
Youtube http://www.youtube.com/watch?v=1TfmqOzeFZ4
###