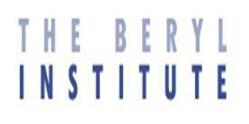 The event offered the space for those that might be seen as competitors to come together in collaboration around the common goal of improving the patient experience.
Bedford, Texas (PRWEB) November 18, 2011
Supporting its commitment to be the global community of practice for improving the patient experience, The Beryl Institute held a first-of-its kind Regional Roundtable event on November 3 in Los Angeles, Calif. Hosted by UCLA Health System, the event brought together executives and leaders from top healthcare organizations to share efforts focused on improving the patient experience.
"The Regional Roundtable provided the opportunity to discuss current practices and cultivate new ideas being implemented by a diverse group of facilities," said Jason Wolf, executive director of The Beryl Institute. "It also offered the space for those that, by market standards, might be seen as competitors to come together in collaboration around the common goal of improving the patient experience."
Attendees identified the top issues they face today in addressing the patient experience and worked together to develop detailed action plans to immediately implement in their individual organizations.
Key themes, actionable plans and insights that emerged included:

Healthcare organizations are still grappling with the Hospital Consumer Assessment of Healthcare Providers and Systems (HCAHPS) scores and their implications. While many institutions are still working to understand and address the scores from this survey, there is recognition that it requires both effective education of staff and a framework for accountability to track and measure progress and success.
The need for a strong service culture is a foundation of patient experience success. Key elements in creating that culture include establishing a steering team, framing a service vision, developing education and communication plans and monitoring progress for success. It is imperative that staff is engaged and has a sense of ownership for the type of culture they want to create.
Ensuring accountability at all levels of the organization to support patient experience efforts is a work in progress. Key steps include setting clear expectations that are shared by all, establishing consequences for action and inaction, providing opportunities for recognition and empowering staff to act.
Engaging physicians in their role for supporting patient experience outcomes remains a challenge. There is an opportunity to engage physicians in institutional strategy by coaching and mentoring physicians around patient experience, providing ongoing education on the issue, and giving individual feedback on the metrics such as patient surveys or HCAHPS scores.
Additional Regional Roundtable events are planned for 2012 with dates and locations to be announced soon. For more information on events from The Beryl Institute, visit http://www.theberylinstitute.org.
About The Beryl Institute:
The Beryl Institute is the global community of practice and premier thought leader on improving the patient experience. The Institute serves as a reliable resource for shared information and proven practices, a dynamic incubator of leading research and new ideas and an interactive connector of effective leaders and dedicated practitioners. The Institute is uniquely positioned to develop and publicize cutting-edge concepts focused on improving the patient experience, touching thousands of healthcare executives and patients.
The Beryl Institute defines the patient experience as the sum of all interactions, shaped by an organization's culture, that influence patient perceptions across the continuum of care.
# # #