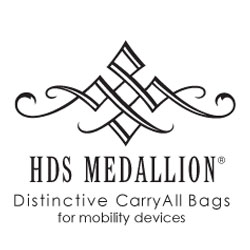 BOLTON, CT, November 29, 2011 (PRWEB) November 29, 2011
The holiday gift buying season often prompts friends and families of the millions of women who use a walker, medical scooter, power chair or transport wheelchair to seek useful ideas for the perfect gift. HDS MEDALLION, a manufacturer of distinctive carryall bags for mobility devices, has introduced a new collection of stylish bags to make the 'what to buy' decision much easier. HDS MEDALLION bags not only provide loved ones with a practical gift that returns a sense of style to senior and disabled women, but also a functional bag that is used daily to hold medical records, medications and other personal belongings.
The Christopher & Dana Reeve Foundation, which is dedicated to curing spinal cord injury with innovative research and improving the quality of life for people living with paralysis, recognized the uniqueness and usefulness of the HDS MEDALLION CarryAll Bags and included the collection in its 2011 Holiday Gift Guide for Individuals Living with Paralysis.
Women who use a medical mobility device due to a number of reasons including falls, surgery, rehabilitation, debilitating conditions, diseases or weakness are unable to use a conventional handbag with their device. Traditional purses with a mobility device can be dangerous since it encourages the user to take her hands off the device. However, alternative bags available for mobility devices are most often unattractive, canvas bags that lack style and highlight the person's disability and lack of fashion. HDS MEDALLION offers mobility device accessories that bring style back to women who have to use power chairs and medical scooters.
Holiday gift selection for a woman who uses a walker, scooter or power chair and resides in an independent/assisted living facility or nursing home is always challenging. She is often gradually downsizing and burdening her with frivolous gifts can only create more unwelcome clutter. Alternatively, a gift of an HDS MEDALLION Carryall Bag gives her a chic, practical accessory for her mobility device that she will welcome enthusiastically while enjoying a healthy lift in spirits, regardless of circumstances or age. She will use this designer walker bag every day.
Featuring attractive quality fabrics and trims, feminine and functional designs, a strong sense of style and practical elements, the HDS MEDALLION CarryAll Bags give a woman who uses a mobility device the chance to once again demonstrate her unique sense of style. With 14 designs to choose from including festive and colorful floral prints (Poppy Punch Red, Paisley Punch Pink, Zebra Party Animal) to more elegant and sophisticated designs (Misty Gray, Imperial Evening Blue and Silver & Onyx Damask), HDS MEDALLION has fashionable carryall bags to fit every style and taste. The HDS MEDALLION power chair bags and mobility device accessories are just the thing to brighten up this holiday season.
HDS MEDALLION Carryall Bags are available online at http://www.hdsmedallion.com or by calling 1-877-646-1941. Use coupon code HOLIDAY for $5.00 off any bag through December 20, 2011.
Consumers can also friend HDS MEDALLION on Facebook or follow HDS MEDALLION on Twitter @HDSMEDALLION.
Press Release services provided by Keyword Performance an Internet marketing firm specializing in search engine optimization.
###