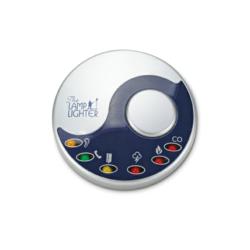 The Lamplighter flashes unique codes and has corresponding light up ICONs.
Waterford, MI (PRWEB) November 19, 2011
For the holiday season, Silent Call Communications wants to have some fun with customers. From November 7, 2011 through December 7, 2011 photos will be accepted of people using Silent Call products or showing how someone could benefit from having Silent Call products. Creativity is highly encouraged! Include family, friends or pets. The photos can be silly, serious or somewhere in between, but please keep them tactful. More than one entry may be submitted, but please only one per day. The photos will be judged by creativity and use of a Silent Call product or the need thereof. Please keep in mind that once a photo is submitted, Silent Call Communications may use that photo for public and Internet display. To submit a photo, please e-mail it to Lisa DeLeuil at: Lisa(at)silentcall(dot)com. There will be a grand prize winner, 2nd and 3rd place winners as well. The winners will be announced on December 19, 2011.
The grand prize winner will receive an amazing Lamplighter Receiver($147.00 value), which flashes a table lamp with unique flash codes. This device can alert a person of sound, telephone, doorbell, weather, fire alarm, and Carbon Monoxide detector. It also alerts the person on the unit itself and lets them know if their lamp is unplugged or burned out. The 2nd and 3rd place winners will each receive a $50 gift certificate towards any Silent Call product. Silent Call Communications provides a variety of life enhancing systems for seniors, people who are deaf, deaf/blind, hard of hearing, and the general public.
Silent Call Communications is a Waterford, Michigan based company that provides tactile and alerting devices to organizations, companies and individuals alike. Since 1985, the Silent Call Communications Corporation has taken a simple philosophy of personal communications by means of electronic devices and developed an exciting product line. These products have revolutionized the means by which people who are seniors, hard of hearing, deaf or deaf/blind may lead more convenient, safe lives. For more information about Silent Call Communications and products, please visit http://www.silentcall.com or call (800) 572-5227 (Voice or TTY).
Ubetcha Marketing, 9007 Crowne Springs Circle, Ste. 106, Louisville, KY 40241
###