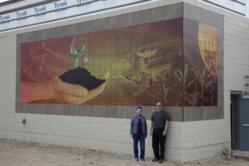 "We are thrilled that we have this mural to signify a new beginning for NCTA and to communicate to us as faculty and students that agriculture is ever changing." Weldon Sleight – dean
Curtis, Nebraska (PRWEB) November 21, 2011
Tile mural artwork from digital and conceptual artist Cheri Freund of Waukesha, WI and tile artist Randy Hopfer of Tile Surface Impressions of Vancouver, WA promote agriculture studies at the University of Nebraska - Nebraska College of Technical Agriculture.
The tile mural includes timeless elements that represent the education offerings at the college. A satellite in orbit expresses worldwide communications and real-time data transfer to a combine working the fields. A hand extended with soil and a growing sprout represent the hands-on nature of agriculture, a large water droplet connects to the ever important water resources of Nebraska. Both food and feed crops are represented and tied to both the livestock and companion pet need for veterinary technology. A simple handshake represents the relationships required for entrepreneurship within the local and worldwide communities.
After completing her agriculture focused digital artwork Cheri worked with Randy Hopfer of Tile Surface Impressions to manage reproduction of the artwork in tile and installation of the mural. The mural was produced onto porcelain tile and surrounded with solid color porcelain that frames the artwork and integrates flush with the wall, completing the entire design in line with the architect's intent for the building
Dean Weldon Sleight and faculty at NCTA envisioned artwork that would influence and inspire students at the college in the areas of agribusiness management, agriculture production systems, horticulture systems, and veterinary technology. Their vision and input to the artwork inspired Cheri Freund as she used her digital fine art and conceptual skills to create this landmark work of art. Cheri appropriately titled the tile art mural "Field of Choice.
Tile Surface Impressions also completed a small version of the mural installed in the lobby of the Education Center along with tiles recognizing donors, enabling students, faculty, and visitors a place to appreciate the artwork up close.
When Architects from Clark Enersen Partners designed the new Education Center as part of the campus expansion in Curtis, Nebraska a mural was integrated into the wall face to communicate the learning opportunities at the college. A building rendering was completed showing possible mural subjects as a seed for their vision of the schools mission for the future.
About Tile Surface Impressions
Tile Surface Impressions, a nationwide supplier of custom tile finishes including artwork on tile, supplies custom designed tile direct to architects and designers. By reproducing original art or designs in ceramic, glass, and porcelain tile for commercial and public art use they allow designers full control of solid surface finishes; Tile Surface Impressions' photo or art on tile process and custom designs also support donor and legacy wall fundraising projects.
###