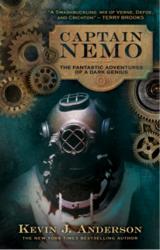 "Of the hundred novels I've written, this is one of the closest to my heart."
Monument, CO (PRWEB) November 21, 2011
International bestselling author Kevin J. Anderson's newly released novel CAPTAIN NEMO (Titan Books 2011) tells a steampunk version of Jules Verne's greatest creation, Captain Nemo, builder and captain of the Nautilus and secret benefactor to the castaways on the Mysterious Island.
In Anderson's ingenious high-concept, the story proposes that Andre Nemo and Jules Verne were boyhood friends, intending to run away from dreary small-town France to see the world. A similar event happened in the real life of Jules Verne, but his father caught him in time and whipped the boy so badly that young Jules swore to "adventure only in his imagination."
In Anderson's novel CAPTAIN NEMO, the boy Verne is caught and sent home. But Nemo does sail off to points unknown, is attacked by pirates, stranded on a mysterious island, finds a cave that leads to the center of the Earth, sails across Africa in a balloon, builds the first sub-marine boat in time for the opening of the Suez Canal—in all, his life's exploits form the basis of Jules Verne's novels in true, steampunk fassion.
Originally released by a major publisher in 2005, CAPTAIN NEMO became an "orphaned book" when the editor lost his job and the novel received very limited distribution. Now, with the current "steampunk craze," Titan Books has reissued the author's preferred text of the book.
Anderson says, "Of the hundred novels I've written, this is one of the closest to my heart. I spent three years researching the life of Jules Verne and the history of the period, as well as Verne's contemporaries Alexandre Dumas, Victor Hugo, and Emperor Napoleon III. I reread all of Verne's classic novels, and put the pieces together to create a grand adventure story that distills all of that seminal work. And of course, it could only be done as steampunk."
Anderson's own love of the science fiction genre was greatly inspired by the film versions of Jules Verne's classics 20,000 Leagues Under the Sea, Journey to the Center of the Earth, The Mysterious Island, Around the World in Eighty Days, Five Weeks in a Balloon, Master of the World, In Search of the Castaways, and From the Earth to the Moon.
Anderson is a prolific bestselling author, best-known for his numerous Dune novels, Star Wars, X-Files, Star Trek, Batman, and Superman work, as well as his own original series The Saga of Seven Suns and Terra Incognita.
For review copies and publisher information, contact Katharine Carroll, KTC2000(at)aol(dot)com, 914-788-1005
For interviews with Kevin J. Anderson, contact anderzone(at)wordfire(dot)com.
###