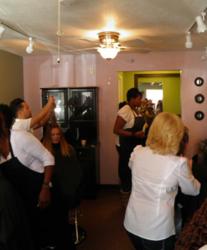 "My goal is to be there myself twice a week with at least one other hair and/or nail professional to provide salon services to these women at little or no cost."
says McCready
Escondido, CA (PRWEB) November 22, 2011
The Beauty industry has a long history of advocating for women and children. Programs such as "Cut it Out", (a program of the Salons Against Domestic Abuse Fund) and Childhelp.org (for the prevention and treatment of child abuse) are sponsored through entities such as the PBA, NCA, and Eufora International. While still participating in other programs, two local stylists have decided to make a difference by going hands on in their community.
Airie McCready of Air Feather Extensions was amazed to find a salon that is helps women in recovery was sitting empty except for special occasions. She and her team decided to take some action.
"Many salon professionals want to help," says McCready, "but find that in these busy days, it's a struggle to do so. I have often wished that there was somewhere I could go where I could lend a hand, feel safe and know that what I did made a difference."
Now that place exists, or will if McCready, Mandy Florez and a few others get their wish.
Evolution Salon was built at North County Serenity House in Escondido CA with the hope and understanding that local salons would come in and spend a day helping women in recovery to turn their lives around. To mobilize a whole salon for a day is difficult-it does happen, but only on special occasions. For McCready and her staff to make an independent commitment to be there is a dream come true for the Serenity House residents.
A boost of self esteem as they "evolve" into people of dignity, and begin the journey into becoming contributing members of society is what many women need," says Mandy Florez, Art Director of Air Feathers.
"After being on the street and often incarcerated, getting sober, beginning a job search and re-uniting with their children and families can be an intimidating process, often made more difficult by a lack of funds to "make over" their looks," she adds.
"The effect that a simple haircut and a few hours of loving care can have on a woman is phenomenal," says McCready. "As a stylist, it takes as little as that to make a huge change in someone's life."
Evolution is a an almost fully furnished salon-all that's needed are back bar products, styling products, willing hands and the tools they bring with them. McCready will supervise and handle the scheduling for the services. The residents will pay for materials only-so stylists can donate their time and expertise in a loving, safe and clean environment and see the immediate result on the face of someone who really needs these services.
McCready encourages everyone to get involved. "This is the busiest time of year for salons," she says, "and while toy and food drives are needed, so is the touch of someone who cares. I want to make it easy for us to contribute. So I'm taking this on myself with the hope of making a difference in my community."
Evolution should be able to be staffed 2 days a week, starting the first week in December.
Salon Professionals are needed to help staff Evolution on a volunteer basis, for a day, or even if only for a few hours on those days.
McCready and Florez also hope that local salons will take advantage of the fact that their
licensed assistants or Junior Stylists can come and gain valuable experience.
McCready would like to provide: Color, Cut, Condition, Styling, Gel Manicure, Eyebrow/Lip Wax, & Threading services. At this time Permanent Waves, and Straightening will not be offered.
Contact at: JOIN THE EVOLUTION!
###