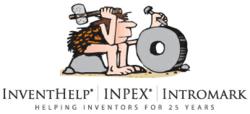 Pittsburgh, PA (PRWEB) November 25, 2011
InventHelp®, America's largest invention submission company, announces that one of its clients, an inventor from Pennsylvania, has designed a plastic device to make it easier to dispense fuel when pumping gas. This invention is patented.
"The Nozzle Grabber" would hold the handle of a gas pump so that the nozzle remains open during the fueling process. The invention could eliminate the hassle of having to stand at the side of a vehicle, squeezing the trigger manually as the gas is pumping. The Nozzle Grabber would help to maintain a steady flow of fuel into the vehicle's tank.
The invention would consist of a plastic device that would be in an oval, square or round shape. The device would incorporate a clasp and a release button on the bottom. After the nozzle is inserted into the gas tank, the user would position the device around the trigger handle of the gas pump and uses the clasp to secure it closed. Once the user lets go of the handle, The Nozzle Grabber would hold the trigger in so that the fuel continues to flow. When finished fueling, the user would press the release button to remove the device.
The inventor came up with the idea through his personal experience with pumping gas. "I got tired of pumping gas and breathing in the gas fumes. Since I have to pump gas so often, I designed this as a way to make it easier."
InventHelp® is attempting to submit the invention to companies for review. If substantial interest is expressed, the company will attempt to negotiate for a sale or royalties for the inventor. For more information, telephone Dept. 07-HAK-255 at (800) 851-6030. Manufacturers interested in reviewing additional inventions and new product ideas can contact InventHelp's marketing partner Intromark by filling out an online request to review new product ideas here.
###