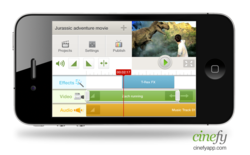 As a former television director, this is a thrilling product to see in action
Portland, OR (PRWEB) November 22, 2011
Chairseven and App Creation Network today announced the limited beta release of Cinefy, a mobile video editing and effects platform for the iPhone where users create and share videos mixed with high quality visual effects. Cinefy empowers users with no editing skills to quickly insert footage, add music, and apply visually stunning effects with its intuitive and simple interface.
In Cinefy, individual themed or branded effects packs are available for in app downloads, offering TV and game studios the ability to market new properties in a way that creates exciting engagement and massive viral exposure potential.
Friendly Music has partnered with Chairseven and App Creation Network to provide Cinefy with access to its comprehensive catalog of copyright-cleared songs designed to create the perfect soundtrack, available through Cinefy's built in one-click licensing. Friendly Music is the first music collection designed for user-generated content, offering 100% legal and all rights-cleared music for personal and custom online media creations.
Built to be social, Cinefy will export directly to Facebook, YouTube, and Vimeo. Additionally, users can save multiple project files and export to their device's camera roll. In the future, Cinefy will be made available to both iPad and Android devices, and it will allow users to access their downloaded effects on any device.
Cinefy's core editing technology is available for white-label licensing for corporate customers looking to build and promote their own video publishing platforms. For studios or promoters, Cinefy effects packs can contain between 10-15 branded visual effects or motion graphics, and can be distributed as free or paid downloads. Effects packs can also be designed to contain third-party sponsorship elements to promote short-run campaigns or user-generated video contests.
"We made Cinefy to put the most exciting Hollywood quality production tools directly in the user's hands," said Dan Hellerman, CEO of App Creation Network. "The ability for studios to promote their brands, by empowering users with actual effects elements themed to their shows or games, is an explosive marketing tool."
"As a former television director, this is a thrilling product to see in action," said Gary Stover, Product Director for Chairseven. "Cinefy was designed with amazingly intuitive controls, and is the first mobile editing tool that I have used that just makes sense the minute it's launched. We're pushing mobile video production to an entirely new level, and we can't wait to see what users create with it."
Users interested in participating in the limited beta of Cinefy can visit http://www.cinefyapp.com. For licensing or effects pack information call (503) 395-1660.
About Chairseven
Chairseven is a digital creative and consulting agency specializing in strategy, design, content, and development. The company has produced software products, campaigns, and programming elements for an all-star client roster, including FOX Television, Amgen Pharmaceuticals, and MTV. They have offices in Portland, OR and Sandpoint, ID. Website: http://www.chairseven.com.
About App Creation Network
App Creation Network is a product design house for mobile entertainment applications and games. The Network is comprised of creative professionals from all aspects of the information technology, design, software development, and mobile industries, with a product focus on sophisticated, user-friendly applications. Their office is located in West Chester, PA. Website: http://www.appcreationnetwork.com
###