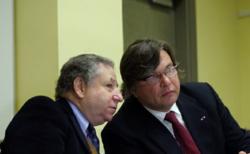 You have a great rally drivers, hopefully in the future you will also have an F1 pilot," Jean Todt said at the press conference.
(PRWEB) November 24, 2011
Jean Todt, the President of FIA, arrived in Estonia for his two-day visit on the 17th of November. He was invited to Estonia to celebrate the 90th anniversary of Estonian Auto- and Motosport by the Estonian Autosport Union.
The former head of Ferrari F1 team was greeted upon arrival by the president of Estonian Autosport Union Margus Reinsalu, Vice President Marek Kiisa and the secretary general Arno Sillat.
During J.Todt's visit, he held meetings with the Minister of Culture, Mr. Rein Lang, Minister of Economy, Mr. Juhan Parts, the President of the Republic of Estonia, Mr. Toomas Hendrik Ilves, the Prime Minister, Mr. Andrus Ansip and numerous representatives of automotive societies. Many important subjects were discussed, including speedway safety and traffic deaths, a focal point for FIA and the developments of autosports in Estonia. A press conference was held in Radisson Blu hotel.
"Estonian Autosport Union has done a great job," Jean Todt stated. He was well informed about the test drive of Kevin Korjus in Abu Dhabi, racing for Lotus Renault. "Your country has had a number of good drivers among youth categories. Your racer Kevin Korjus took part in the test drive of Lotus Renault in Abu Dhabi and this shows everything is headed in the right direction. You have a great rally drivers, hopefully in the future you will also have an F1 pilot," Todt said at the press conference.
According to Todt, in the future more mid-season F1 test drives will be held in order to give young pilots more opportunities for practical experience. "We are working towards holding more mid-term test drives already in 2013, we have also planned new test drives for the next season," Todt added.
"Another goal is to provide a stable road from carting to F1 for the young pilots. This would ensure good opportunity for racing at the top for the young drivers," Todt revealed.
###