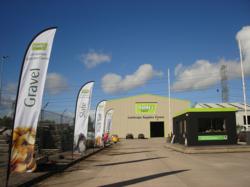 The relocation was the best decision we've ever made as a business.
(PRWEB UK) 22 November 2011
Dandy's Garden Centre, Britain's leading topsoil and rock salt supplier, have been operating successfully from their new premises at Deeside Industrial Park for just over twelve months. The site was officially opened in October 2010 by Lady Janet Jones, High Sheriff of Clwyd, in the presence of local press, business owners and representatives from Flintshire County Council.
Dandy's have stated that the decision to relocate after being based on Sealand Road for more than two decades was not one which was made lightly; Managing Director and owner of Dandy's, Adam Dandy, said; "Moving from the Sealand Road site was a big risk for us as many of our bread and butter customers such as landscapers and gardeners knew where we were and had been coming to the same site for over twenty years.
"We also risked losing much in the way of passing trade if we were to relocate off a main road and onto an industrial park. After much deliberation we took the plunge and purchased the site at Deeside and I can wholeheartedly say that the relocation was the best decision we've ever made as a business.
"Not only has our customer base increased; we now benefit from improved network links with other local businesses, we receive excellent support from local councillors and council employees and, most importantly, we now operate from premises which we are proud to call our own."
Since the move Dandy's have increased their workforce from fifteen to forty during peak times, bringing much needed employment to the Flintshire area in order to continue to meet the growing demand for their products. The business has also streamlined and improved its award winning websites and has increased its product range to include home fuels, garden furniture and other de-icing supplies such as grit bins and snow shovels.
Deeside Industrial Park is the largest industrial Park in Western Europe and with the new Enterprise Zone status recently granted, the area is set to see a real economic boost with an increase in businesses and amenities; something which will undoubtedly benefit existing businesses on the park as well as Deeside and Flintshire as a whole.
As well as supplying rock salt, topsoil and landscaping and gardening supplies, Dandy's have branched out even further since the move with plans to turn half of the site into a state of the art Truck Park and services; the largest in North Wales.
This planned development has proved popular with businesses attending the Deeside Industrial Park forums run by Flintshire County Council and is one that has been welcomed by companies and residents from the area, as well as Council members and representatives of the Welsh Assembly Government.
###