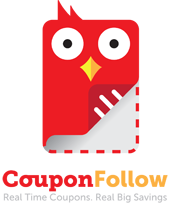 Madison, NJ (PRWEB) November 23, 2011
Today CouponFollow.com, a web-based Twitter application that follows coupon codes as they are posted on Twitter.com, announced its Black Friday 2011 coupon savings section. The site provides real-time coverage of all coupon codes mentioned on Twitter and has today unveiled sections dedicated to promotion codes valid on Thanksgiving, Black Friday and Cyber Monday to kick off the 2011 holiday shopping season.
"We've already tracked over 1,000 different online coupon codes offered by hundreds of retailers for these three shopping-related holidays, and there will be many more coming over the next few days and throughout the holiday shopping season" stated founder Marc Mezzacca.
Shoppers can log on to the CouponFollow website right now and start finding coupon savings for their favorite retail websites.

Anyone can use the site to find savings, but visitors also have the option to connect their Twitter account allowing them to easily share coupon savings with friends, family and followers directly from the CouponFollow website.
About CouponFollow
CouponFollow is a social media based coupon code search engine and directory. CouponFollow tracks coupons mentioned on Twitter and allows online shoppers to easily find the hottest coupon savings based on social media trends. Since launching in 2009 CouponFollow has tracked over 2 million coupon related tweets for over 400,000 online coupon codes.
###