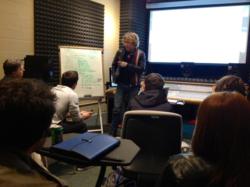 Nashville, TN (PRWEB) November 22, 2011
Founder and CEO of Infuse Creative, LLC, Gregory Markel, spoke yesterday to students from the university's College of Mass Communication who were hand-picked by Professor Dick Williams and make up the synergistic entertainment marketing class.
Follow the class progress at http://www.thebrink.org
The class, which consists of upper-class students with such majors as artist management, audio production, and film production– has created an advertising campaign for Chrysler's revamped Fiat 500, and is working on a similar project for the company's SRT brand.
Drawing from his many years as a digital agency CEO and strategist, Markel spoke to the university's class about digital marketing, video, SEO, mobile and social media techniques to enhance the Chrysler effort as well as related and general digital entertainment marketing best practices.
Alaina Cross, a musician and student at MTSU, was chosen by the class as the artist they will represent for the semester. Students were assigned to put together a press package and promotion plan, as well as record a dance-pop song and a music video for the Chrysler effort.
Cross's song, "Handle Me," was written by another student, Michael Watson. The music video features Cross driving a Fiat 500, with the camera zooming in on a close-up of the logo at the end of the song.
The 26-hour video shoot resulted in a high-energy dance video has been released to the public and is working toward a top-40 placement.
"Several students and a couple of professors brought Alaina Cross to my attention," Williams said. "I wasn't sure if she was right for the song we selected until we started recording it in the studio. Once she gained confidence, her talent really started to shine and I knew we made the right decision."
Through weekly meetings, a couple trips to Detroit and advice from Williams, the group hopes they have come up with a successful campaign that will impress Chrysler.
Students pitched storyboard ideas to Walid Saba, the group creative director of Chrysler, during a meeting in October. A business man who wears his artist's heart on his sleeve, Saba was enthusiastic about the creativity of young minds and readily gave his story to the students.
"Everyone knows what beautiful is," Saba said. "You don't have to be educated to recognize beauty. Fundamentally, when you look at something beautiful, you almost always get a majority take on that. As a designer, you have to be able to break it down to its fundamental variables so everyone can see it."
After hours of debate, Saba dictated that the five storyboards presented be combined.
Keyboardist, producer and all-around Detroit music guru Luis Resto was called in to write and give music advice to the team. Resto also played a key role in a different matter– the inception of the class.
"The idea for this class germinated from a conversation with my friend Luis Resto, during a summer visit to Detroit," Williams said. "Luis is one of the co-writers of the Eminem hit, 'Lose Yourself,' which Chrysler used to launch their new Chrysler 200 during the Superbowl."
About Gregory Markel and Infuse Creative: ‪http://www.infusecreative.com‬‬
Infuse Creative, founded by Gregory Markel, referred to as "one of the pioneers of SEO," has provided search engine optimization (Organic and paid), social media, mobile, TV advertising, reputation management, security, and digital marketing services and technology to an extremely diverse range of clients, including Mazda, Sony, Universal Vivendi, Roadside Attractions, Disney, Gibson Musical Instruments, New Line Cinema, Warner Bros., Participant Media, Pacificare, The BBC, Ed Hardy, Led Zeppelin, The Beatles, CBS, FOX, The National Geographic Channel, Transcendental Meditation, The State of California, Reality Executives International, and many more. Follow on Twitter: ‪http://twitter.com/infusecreative‬‬
About MTSU: http://www.mtsu.edu
Founded in 1911 as one of three state normal schools for teacher training, MTSU is now the oldest and largest public university in Middle Tennessee. We hope you'll find the following information helpful as you explore "Tennessee's Best" university.
About OnTheBrink: http://www.thebrink.org
OnTheBrink is a group of students at Middle Tennessee State University who are immersed in their concentrations and have come together to form a synergistic marketing group. The students' talents range from audio production to film production to public relations. With experience to beyond their years, the group is capable of handling large-scale projects for any client.
###