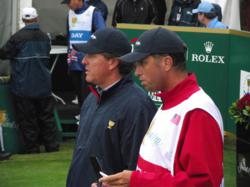 "The hope is always that weather is not a factor but when it is, our goal is to reduce the weather's impact on the golfer. We are proud of the way our pieces performed throughout the week, especially during Saturday's rain."
Missoula, Montana (PRWEB) November 23, 2011
Congratulations from Sun Mountain to the victorious 2011 U.S. Presidents Cup Team. As the "Official Outerwear Provider for The Presidents Cup 2011 United States Team" Sun Mountain rain gear is proud to have been part of the effort.
November weather in host city Melbourne, Australia is known to be unpredictable and varied so the team outerwear included several different styles of Sun Mountain rain gear and wind wear. The players' outerwear for The Presidents Cup 2011 included: a full-zip rain jacket, long sleeve rain pullover, short sleeve rain pullover, rain pants, long sleeve wind pullover, short sleeve wind pullover and bucket hat. Caddies' outerwear included: long sleeve rain pullover, short sleeve rain pullover, long sleeve wind pullover and bucket hat. Players' significant others had options to include: full-zip rain jacket, rain pants, fleece jacket, thermal vest and bucket hat.
During The Presidents Cup 2011, the weather in Melbourne lived up to its reputation of having all four seasons in one week. Thursday's temperatures were in the 80s with a brisk wind. Friday's temperature neared 100 degrees and made fast greens even faster. Saturday's steady rain and chilly temperatures in the 50s brought out a lot of Sun Mountain rain gear for players, caddies, team captains, tournament officials and players' significant others. Sunday started out chilly with most caddies wearing Sun Mountain wind jackets to begin the day.
"We are honored to have been chosen to outfit The Presidents Cup U.S. Team," said Sun Mountain Founder Rick Reimers. Reimers continued, "The hope is always that weather is not a factor but when it is, our goal is to reduce the weather's impact on the golfer. We are proud of the way our pieces performed throughout the week, especially during Saturday's rain."
Sun Mountain worked with the U.S. Team to design custom outerwear that offered protection from wind and rain while remaining breathable, and stretching enough to allow a free golf swing. The resulting rain gear was based upon a new Sun Mountain line that is constructed from an advanced, new four-way stretch woven fabric with a fully waterproof/breathable laminate and durable water repellant finish.
The Presidents Cup, a team match-play competition featuring 24 of the world's top golfers -- 12 from the United States and 12 from around the world, excluding Europe -- is held every two years, and has alternated between United States and international venues since 1994. The Presidents Cup was developed to give the world's best non-European players an opportunity to compete in international team match-play competition. The Presidents Cup 2011 was held November 15-20 at The Royal Melbourne Golf Club in Melbourne, Victoria, Australia, pitting the U.S. Team, led by Fred Couples, against the International Team, captained by Greg Norman.
For 30 years Sun Mountain has been a pioneer in the golf industry, revolutionizing golf bags, golf outerwear and golf carts. Sun Mountain's many innovations, including the first lightweight golf bag and modern stand bag, have made it the top golf bag company in North America. Within golf outerwear, Sun Mountain redefined golf-specific performance first with the windshirt, then fleece, and again with its four-way stretch, waterproof, and breathable rainwear. The Sun Mountain Speed Cart® golf push cart transformed walking carts and created an entirely new category of golf products. Sun Mountain's "Ahead of Time Design" motto drives the company to continually design and refine golf equipment. For the Sun Mountain retailer nearest you call 800-227-9224 or visit http://www.sunmountain.com.
###