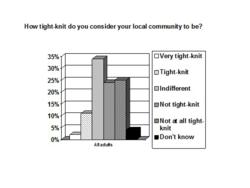 Our research suggests that although people may have a relationship with their immediate neighbour, they do not feel a sense of engagement with their wider community.
London, United Kingdom (PRWEB) November 24, 2011
New research¹ from ADT, the UK's leading home security specialist, paints a picture of Britain as a big society with few close communities, where nearly 50% of people describe their neighbourhood as not tight-knit, and a further 34% are undecided as to whether their communities are friendly or not.
This research, conducted by YouGov on behalf of ADT, examines over 2,000 people's attitudes towards their local communities, asking whether they believe them to be closely integrated, with friendly neighbours. Only 2% of respondents describe their communities as "very tight-knit", with an additional 11% saying that their communities are quite close.
Yet, in these seemingly dysfunctional communities, people are more reliant on their neighbours than might be imagined, with over two thirds (65%) of people saying they rely on their neighbours either "a little", "a lot" or "completely" to keep an eye on their homes for them when they are away.
Interestingly, even in areas where residents do not feel like part of a close community, people are quite likely to ask their neighbours to help out to some extent. 81% of those who say their community is not particularly tight-knit, and two thirds of those who say their community is unfriendly, rely on their neighbours to lend a watchful eye. Residents over the age of 55 years are most likely to rely on their neighbours help, whereas 18-24 year olds are least likely.
Mark Shaw, General Manager for Residential Business at ADT Fire and Security said: "Our research suggests that although people may have a relationship with their immediate neighbour, they do not feel a sense of engagement with their wider community. As winter draws in and the nights get longer, we are entering peak burglary season and a greater sense of community would undoubtedly help people to feel safe and secure in their homes."
ADT's research, conducted immediately following publication of the British Crime Survey², which confirmed a 10% increase in residential burglaries in the last year, shows that 59% of people who read about the increases in crime express concern, ranging from a sense of unease to feeling angry. The findings indicate that retired people feel most concerned, with 66% of retirees expressing negative feelings, including shock, worry and upset, compared with only 54% of all workers.
Among those who read about the national crime statistics, twice as many retired people than part-time workers express anger at the statistics and nearly a third (31%) of retired people say that the data worries them. However only 6% of all people who have seen the statistics express shock at the figures, while over half (52%) say that they are unsurprised.
Shaw continued: "Knowing that incidents of residential burglary have increased by so much in the last year is unsettling for everyone, although many do not appear to be surprised or shocked by the figures. While promoting a stronger sense of community will help people to feel safer in their homes, it is important that they do not build up a false sense of security. It takes a professional burglar just seven seconds to decide whether a home is an easy target or not and even the most vigilant neighbour cannot be expected to conduct a 24-hour watch!
"People can make their homes many times more secure by following a few simple steps which will act as deterrents to any would-be burglar. For those people who want to clearly communicate the message that their home is not an easy target, a monitored home security alarm with a highly visible bell box, like ADT's vibrant yellow bell boxes, is a great deterrent - 84%³ of burglars avoid properties with an alarm system."
Other home security tips from ADT experts include:
1. Undertake a general security check. Look at door and window locks to make sure they can be properly secured.
2. Make sure outbuildings, sheds and garages are secure and that, where possible, expensive garden items such as furniture and barbeques are locked away out of sight.
3. Use timer switches to make your home look occupied, especially in the morning and early evening when you may be at work.
4. If you have space in your garage, think about putting your car away each night.
Notes:
¹ All figures, unless otherwise stated, are from YouGov Plc. Total sample size was 2069 adults. Fieldwork was undertaken between 24th and 26th October 2011. The survey was carried out online. The figures have been weighted and are representative of all GB adults (aged 18+).
² Source: British Crime Survey, Crime in England and Wales, published 20th October 2011
³ Source: Home Office