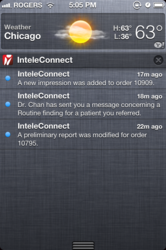 With InteleConnect, physicians can access crucial information as soon as it is available, and have the ability to reach out to radiologists without constraints
Chicago, IL (PRWEB) November 27, 2011
Intelerad® Medical Systems, a leader in medical imaging PACS, RIS and workflow solutions, today announced a new mobile-friendly interface for the InteleConnect™ web portal, a brandable, browser-based solution for communicating radiology results to referring physicians. The new interface features an optimized display layout for smart phone and tablet devices, providing access to the portal's full functionality. It will be demonstrated at the RSNA annual meeting, Nov. 27 to Dec. 2 in Chicago, Illinois.
Also new is a mobile application that notifies physicians immediately when new messages, critical alerts or result notifications are available via the portal. An InteleConnect icon on the physician's mobile device displays the total number of new notifications and critical alerts, even if they originate from different providers. This application is available for Apple®'s iPad and iPhone.
In addition, Intelerad's InteleViewer™ offers enhanced secure instant messaging, facilitating timely and convenient physician-to-radiologist collaboration. Through InteleConnect, physicians can identify and contact available radiologists online, enabling ad-hoc consultation and clarification of results.
"We have taken InteleConnect to the next level," said Rick Rubin, Chief Engineering Officer at Intelerad. "Results delivery plays a vital role in the patient care chain. With InteleConnect, physicians can access crucial information as soon as it is available, and have the ability to reach out to radiologists without constraints."
With its brandable login screen and portal web pages, InteleConnect enables radiology providers to add custom HTML and logos, increasing visibility for their services.
Demonstrations will take place at RSNA 2011: Intelerad booth #4053 Hall, A.
For more information and to schedule a demonstration
Please contact Helene Gey
Intelerad Medical Systems Incorporated
514.931.6222 ext. 7424
helene.gey(at)intelerad(dot)com
http://www.intelerad.com
About Intelerad
Intelerad Medical Systems is a leader in distributed radiology, specializing in RIS, PACS and workflow solutions for healthcare organizations. Intelerad solutions increase productivity and streamline workflow by overcoming technical barriers in distributed and complex environments. Highly scalable, flexible and robust, Intelerad's solutions offer high performance and industry leading customer service and support. Intelerad solutions such as KLAS category leader IntelePACS® and Frost & Sullivan Healthcare Innovation Award recipient InteleOne® are used in more than 800 sites across North America, Oceania and the United Kingdom.
###