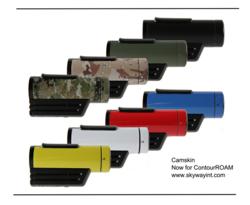 Malvern, PA (PRWEB) November 26, 2011
Skyway International Inc announces the expansion of its CamSkin line of protective and appearance enhancing skins to include the popular Contour ROAM.
For the action sport market, the CamSkin provides personalization and individual high visibility colors. CamSkin is also used by virtually every branch of the military and by law enforcement with available skins in Tactical Black, Desert Camo, Multicam and Olive Drab.
Made in the USA, the CamSkin can be easily removed if needed, and does not leave a residue. The hitech material used to manufacture the CamSkin is both tough and protective.
CamSkin for the Contour ROAM is available now in the USA from SportHiTech or via Amazon.
All Trademarks mentioned within are trademarks or registered trademarks of their owners. Skyway International Inc's products are not manufactured, endorsed, distributed or sponsored by Contour Inc.
###