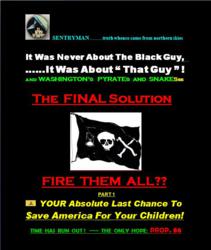 PROP. 86....YOUR Absolute Last Chance To $ave America For Your Children!
Gun Barrel City, TX (PRWEB) November 29, 2011
"After 235 years in America, shouldn't the Supreme Court's difference between "right and wrong" be greater than a "4 to 5" decision? Bachmann, Paul, Romney, Santorum, Cain, Huntsman, Perry and Newt can't do it all for you. Beck warns, Rush enlightens, Hannity explains it five different ways, as Morris tells O'Reilly who sits in critical judgment of Coulter, Ingraham, Hoover, Kelly, Malkin & Rove all on the warpath, and I told you with whom your best chances lay when I wrote Chap. 31 in May, 2009 before I published and haven't changed my mind in this revised printing. However, ultimate responsibility always ends with whom, numero uno. So, "You say you want a revolution", Beatles…Well, occupy this, you've got one," states SENTRYMAN
"Most Americans probably agree with the author, who loves his country but doesn't trust the government running things. Unfortunately, the vast majority of Americans are so preoccupied with trying to make a decent living to take care of their families; they have little time to think about changing the system. Government bureaucracy is a flawed but unstoppable force. If you'd like to get a better idea about the widespread abuse and inefficiency taking place in Washington, DC on a regular basis, grab a copy of this book. If nothing else, you will be more enlightened." by Larry Underwood, Author, "Life Under the Corporate Microscope", on Amazon.
This newly updated nonfiction book with extra chapters seeks to end U.S. Government red tape with a patriot's Proposition 86. "It Was Never About The Black Guy, It Was About "That Guy"! And Washington's Pyrates and Snakesss. The Final Solution – Fire Them All??", by Everi Mann (Sentryman) is now available.
Sentryman clearly states that he wants this book to start a revolution; "A bloodless insurrection, a citizen's uprising within a Constitution fewer politicians embrace today, with the same ferocity and passion to act out Finch's plea in "Network"; "we're just not going to take it anymore!" No passion play here, deadly serious, this time the people will win with an old secret weapon: Prop 86, to eighty-six the government to take-back our country for all Americans, no matter your political persuasion, it's easy, cheap and painless.
No one should ever again blindly rely upon elected representatives deaf to safeguarding our freedoms and ignoring our Constitution, or on some savior to save our bacon. Ending our Congressional employee's death-grip on their citizen-employer's wallets is what this "battle plan" is all about; a road map to return this nation to its former glory and greatness. Pres. Clinton took credit for Newt's Congress, Pres. Bush took the blame for the Dem's Congress, Pres. Obama takes credit for anything and responsibility for nothing and everyone finally likes Reagan thank God. Occupy that," Sentryman professes.
"And the current Administration's single greatest accomplishment for reelection is the death of a couple most wanted, and by the same brave professionals no less he once touted as bad guys, the Bush sponsored military; just might say more about us complacent Americans than "Allahu Akbar" only means "Hey Cabby" in Germany. Holy Jihad Batman, bye-bye Israel. Wow, and our economy is only $15 trillion$ in the red, I'm so impressed," Sentryman waxes. http://www.youtube.com/watch?v=BmGe_lVYxDw&feature=player_embedded
"Every citizen should be a soldier. This was the case with the Greeks and Romans, and must be that of every free state." Thomas Jefferson
"Made in America has been replaced with Paid by America." Everi Mann
It Was Never About The Black Guy, It Was About "That Guy"! And Washington's Pyrates and Snakesss. The Final Solution – Fire Them All??, is available for sale online in paper workbook and on "Kindle with live links" at Amazon.com and other channels. http://www.amazon.com/s/ref=nb_sb_noss?url=search-alias%3Daps&field-keywords=Sentryman%2C++fire+them+all%3F%3F
About the Author: Sentryman, self-employed 47 years, owned and operated four small thriving family businesses, all but destroyed since the 2007 Congress. "The Final Solution – Fire Them All??" is his first published book.
Media Contact - Sentryman Email: sentryman2010(at)aol(dot)com
###