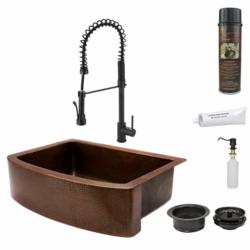 Copper sinks are anti-bacterial and anti-microbial.
North Berwick, ME (PRWEB) November 29, 2011
Plumbingandlightingfixtures.com is proud to be an authorized online distributor of Premier Copper Products copper kitchen sinks, bathroom lavatories and copper vessel sinks as well as their copper bathtubs. When the outstanding qualities of a totally green, environmentally friendly, 100% endlessly recyclable lead-free product are coupled with the centuries old fact that copper is naturally antibacterial and antimicrobial, plumbingandlightingfixtures.com feels that these 99.9% pure copper, naturally beautiful products are one of the best values on their web site.
The double bowl sink packages contain one Premier Copper Products D-130ORB deluxe garbage disposal drain assemblies with basket and quantity 1 of an oil rubbed bronze D-132ORB basket strainer assembly. Single bowl sinks contain a basket strainer assembly only. PLFixtures feels the addition of the copper sink installation silicone (C900-ORB) and detailed copper sink installation instructions makes for a seamless sink installation, for both professionals and do-it-yourselfers alike.
There are currently 24 copper sink packages being offered, including the triple bowl copper sink KTDB422210, 8 double bowl copper sink packages, and 15 single bowl packages including the popular scroll design copper apron front kitchen sink KASDB33229S, as well as the popular bowed front apron front sink KASRDB33249.
For more information please visit us at PLFixtures or contact us at:
plumbingandlightingfixtures.com LLC.
361 Beech Ridge Rd.
North Berwick, ME 03906
866-376-9851
sales(at)plfixtures(dot)com
###