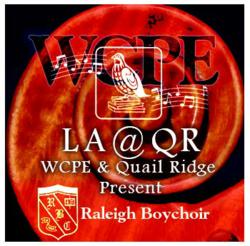 "I have the privilege to work with these young men as they develop their exceptional musical talents."
Wake Forest, N.C. (PRWEB) November 28, 2011
WCPE Community and Arts Liaison, Tara Lynn, announces the December edition of the WCPE Local Arts Series in collaboration with Quail Ridge Books and Music. Meet members of the Resident Choir of The Raleigh Boychoir at Quail Ridge Books and Music on December 6, 2011 at 6:00 p.m. They will sing carols and selections from their up-coming holiday performances. This free event is at Quail Ridge Books and Music, 3522 Wade Avenue, Raleigh, NC.
"I have the privilege to work with these young men as they develop their exceptional musical talents," says Artistic Director Robert E. Unger.
The Resident Choir is one of three choirs in the Raleigh Boychoir. Choristers in the Resident Choir build on their choral foundation and explore unison through three-part singing, as well as their understanding of music theory and musical score reading abilities. Local performance experience is an important component of the Resident Choirboy's term of study. The Resident Choir performs for private and community functions in the Triangle area during the choir year.
The Resident Choir will be participating in the annual Raleigh Boychoir Carols of Christmas concert, December 16, 7:30 pm at Edenton Street United Methodist Church. Tickets may be obtained at Quail Ridge Books and Music, and by contacting the Raleigh Boychoir Centre 919-881-9259. raleighboychoir(at)gmail(dot)com
"I am excited that each of them will be with the Raleigh Boychoir for at least a few more years," adds Unger.
Following the holidays, Choirboys in the Resident Choir will have opportunities to sing Benjamin Britten's Spring Symphony with the North Carolina Master Chorale in March, go on tour to Winston-Salem in April and participate in a pre-Olympic tour to London, England in June.
The Raleigh Boychoir will be holding auditions for boys age 7 - 12, January 19, 4:00 pm.
About The Raleigh Boychoir:
Established in 1968, the mission of The Raleigh Boychoir is to educate and train boys ages 7-14 in the art of singing, to perform the finest music in the boychoir tradition, to contribute to musical life in the greater Raleigh area and to enhance North Carolina's cultural reputation. The Raleigh Boychoir experience develops character, discipline, leadership and a strong commitment to excellence. For each and every choir member, we provide excellent musical training, exciting performance opportunities and lasting memories of fun and fellowship.
About The Local Arts Series by WCPE and Quail Ridge:
Co-sponsored by WCPE FM and Quail Ridge Books and Music, the Local Arts Series is a monthly free event in which a local arts organization will talk about its mission and one of its upcoming performances. Designed to be as entertaining as it is educational, each event also includes a performance aspect. WCPE and Quail Ridge Books and Music both look forward to working with more arts groups in the future and, together, focusing on community educational efforts.
Quail Ridge Books and Music, 919-828-1588, 3522 Wade Avenue, Raleigh, NC, is an independent shop with a friendly, knowledgeable staff dedicated to providing the best in customer service. Their Music Department specializes in classical, jazz and traditional music and presents a diverse program of free concerts.
With a 30 plus year history, WCPE 89.7 FM is a non-commercial, 100 percent listener-supported, independent station dedicated to excellence in Great Classical Music broadcasting. WCPE is heard worldwide on the Internet in multiple formats, including the next generation IPv6. Because WCPE receives no tax-derived support, the station conducts two on-air fundraising campaigns and two major mail-out campaigns per year to raise needed operating funds. For more information, visit http://www.TheClassicalStation.org or call 919-556-5178.
Media Contact:
Curtis Brothers
919.556.5178
curtis(at)TheClassicalStation(dot)org
###