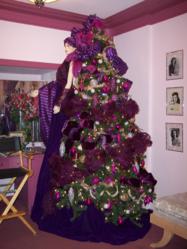 "The Hollywood Museum turns into an exciting and exquisite holiday wonderland," says Donelle Dadigan, Hollywood Museum Founder and President. "Each tree is a work of art!"
Hollywood, CA (PRWEB) November 29, 2011
The Hollywood Museum, official museum of Hollywood located in the historic Max Factor Building, celebrates Christmas and the holiday season with a Wonderland Exhibition of the Museum's "Top -10" holiday themed movies. The exhibit will be on display until January 8, 2012.
The 16 trees spotlighted in the exhibit, designed by "Dr. Christmas," are decorated with costumes, props, photos, posters and themed memorabilia from movie classics such as "White Christmas," "Home Alone," "It's a Wonderful Life," and "Miracle on 34th Street." Other films in the Hollywood Museum's 2011 List of "Top -10 Greatest Holiday Movies" are "A Christmas Story," "Elf," "The Lemon Drop Kid," "Meet Me in St. Louis," "National Lampoon's Christmas Vacation," and "The Nightmare Before Christmas."
For Photos: http://goo.gl/zxeKy
In addition to the "Top - 10" holiday trees, the Holiday Wonderland exhibit presents color coordinated jewel-tone trees designed to complement Max Factor's world-famous makeup rooms, where Marilyn Monroe became a blonde, Elizabeth Taylor a brunette & Lucille Ball a redhead, among others. This is the location where silver screen stars from Hollywood's golden era got their signature look, and the trees are designed to reflect the glamorous and treasured past of the historic Max Factor Building. The trees are decorated by "Dr. Christmas" (Bob Pranga and Debi Staron), known as the celebrity holiday and special event designers to the stars. Also on display is a collection of Christmas ornaments signed by a galaxy of stars, including Lauren Bacall, Angela Lansbury, Jacqueline Smith, Heidi Klum, Paris Hilton, Brittany Murphy, and Phyllis Diller.
"Dr. Christmas paid special care to coordinate the trees and decorations with the colors in the museum's famous beauty salon rooms where Max Factor was a stickler about shades and tints relating to hair color and skin tone," says Donelle Dadigan, museum founder and president. "For example, Max Factor believed celery green was the perfect complimentary color for his red-head clients including Lucille Ball, Maureen O'Hara, and Rita Hayworth," she adds. "Our Christmas tree in the 'Blondes Only' room sparkles with icy blues because Max Factor thought it was the perfect color to offset the blondes he styled in that room including Marilyn Monroe, Jean Harlow, and Barbara Stanwyck."
The Hollywood Museum is located half a block from Hollywood's Walk of Fame on Hollywood Blvd. Also on display at the museum is a special exhibition "Lucille Ball at 100 & 'I Love Lucy' at 60," through Dec. 2011 showcasing memorabilia saluting the careers and romance of Americas famous redhead and the genius of Desi Arnaz. For exhibit details: http://goo.gl/X60BB
2011 Holiday Wonderland Exhibit
WHERE: The Hollywood Museum, 1660 N. Highland Avenue at Hollywood Blvd, Hollywood, CA 90028
WHEN: 10 a.m. to 5 p.m., Wednesday through Sunday
EXHIBIT INFO: Now – January 8, 2012
PRICE: $15 for adults, $12 for seniors (65+), $12 for students (21 and under), $5 for children (5 and under)
FOR INFO: (323) 464-7776
WEBSITE: http://www.thehollywoodmuseum.com
TWITTER: twitter@hollywoodmuseum
About The Hollywood Museum
The Hollywood Museum (http://www.thehollywoodmuseum.com), the official museum of Hollywood, has the most extensive collection of Hollywood memorabilia in the world. The museum features four floors of breathtaking exhibits and is the home of more than 10,000 authentic Showbiz Treasures, one of a kind costumes, props, photographs, scripts and artifacts from favorite movies and TV shows. The museum includes exhibits of Marilyn Monroe, Elvis, I Love Lucy, Superman, Star Trek, Twilight, Planet of the Apes, Jaws, Glee, High School Musical, Sopranos, Rocky, Leonardo DiCaprio, George Clooney, Jennifer Lopez, Brad Pitt & Angelina Jolie & more. Exhibits also include stars' automobiles including Marilyn Monroe's limo, a vintage photo gallery and Hannibal Lector's jail cell movie set from Silence of the Lambs. See Max Factor's world-famous makeup rooms where Marilyn Monroe became a blonde & Lucille Ball a redhead. Every year the world's largest Marilyn Monroe collection is on display from June 1st, Marilyn Monroe's birthday, until the end of August. The Hollywood Museum is located in the historic Max Factor Building on the corner of Hollywood & Highland, where Max Factor, Hollywood's make-up king, worked his magic on motion picture stars since the 1930's. The Hollywood Museum is a 501(c)(3) non-profit organization.
About Dr. Christmas
Since 1984, Bob Pranga and Debi Staron have owned and operated Dr. Christmas (http://www.drchristmas.com), a holiday decorating company in Los Angeles that provides custom Christmas and special events design and décor from "the house next door" to celebrity clientele and businesses. Celebrity clientele include: Candice Bergen, Whoopi Goldberg, Nancy Reagan, Bob Hope, Shaquille O'Neal, James Cameron, Carrie Fisher, Andy Garcia, Mark Cherry, Teri Garr, Leeza Gibbons, Kate Hudson, Diane Keaton, Heidi Klum, Jacklyn Smith, and Billy Bob Thornton. Prestigious locations include: The Beverly Hilton, The Hollywood Museum, Tiffany & Co, Macy's, MGM Studios, and Walt Disney Studios.
# # #