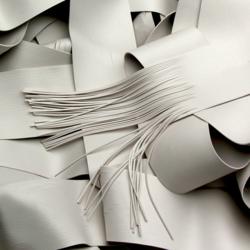 Growing interest in 'no melt-no drip' seems to be matched by equal interest in the performance of FR clothing.
Brattleboro, VT (PRWEB) November 30, 2011
Use of fire resistant (FR) clothing has grown dramatically over the last decade. The military has been especially concerned as wars with a different kind of enemy using different tactics have caused real harm to our warfighters. The military has responded with rapid adoption of more stringent FR clothing standards. In support of this effort, Fulflex is innovating a number of new products.
One tough standard, creating both a challenge for textile manufacturers and an opportunity for innovators, has been the growing interest in 'no melt, no drip' fabrics. This is especially true for FR clothing layers that come in contact with the bodies of warfighters. The injuries experienced in Iraq and Afghanistan over the last few years, particularly as a result of improvised explosive devices (IEDs), have been frequent and horrific.
Jay Waltz, Sales & Marketing Vice President, Fulflex division of The Moore Company, recently noted that, "The growing interest in 'no melt-no drip' seems to be matched by equal interest in the performance of FR clothing. Customers are coming to us seeking better ways to provide performance, comfort and personal safety."
Also, Waltz said, "Adding more elastic to garments enhances performance qualities. Improving performance while maintaining the required 'no melt – no drip' characteristics, however, is difficult. In many garments, elastic is covered with an FR treated fabric. However, this approach often requires either a reduction in the amount of elastic or a waiver from 'no-melt-no drip' requirements. Further, the Berry Amendment requiring US made textiles for military applications creates further complications for some manufacturers."
Fulflex is a leading US firm innovating to help our military, first responders and industry protect people in dangerous situations. Fulflex developed and is currently introducing an inherent FR elastomeric thread useful in a variety of applications from FR clothing to FR restraints or components for personal gear. This new FR elastomeric material has been tested internally and by outside testing firms, meeting the stringent FR requirements of NFPA 70E and Mil Spec GL-PD-07-12 while offering compression and stretch. When users need FR, performance and comfort, incorporating Fulflex elastomeric thread into products is ideal.
The need for FR clothing in the armed forces is expected to remain high, even if growth rates level off. As Waltz observed, "The number of warfighters in harms way is expected to vary over time – and fortunately for our young men and women the number has been reported to be declining due to the drawdown in Iraq. However, research suggests that the percentage of personnel equipped with FR is increasing. This is likely to continue as our military continues to face risks from guerrillas, terrorists, and other non-traditional warfare where personnel are at risk everywhere, at any time. They need to be prepared."
For more information about FR elastomeric thread, contact Jay Waltz.
Founded in 1932, Fulflex is a leading manufacturer of thin-gauge calendered and extruded elastic products. Technical capabilities set Fulflex apart from the rest of the industry. The company combines experience, research and development and a passion for problem-solving to meet rigorous design challenges.
Fulflex has facilities and warehouses located throughout North America, Europe and the Asian Pacific Region to respond rapidly with product or technical capabilities.
Fulflex is a division of The Moore Company, founded in 1909 and still focused on innovation. Sister divisions include Moreller Marine, Moeller Plastics, Darlington Fabrics, The George C. Moore Company, and AMER-SIL.
The Moore Company continues to manufacture products in the United States. International manufacturing facilities complement domestic capabilities while serving regional markets around the globe.
# # #