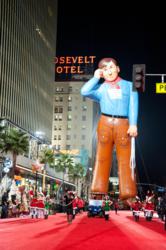 He stands 6 stories tall, representing the over 30 western stories written by L. Ron Hubbard from the Stories from the Golden Age
Hollywood, CA (PRWEB) November 29, 2011
Hollywood Blvd was lined on both sides with eager fans for the 80th Anniversary of the Hollywood Christmas Parade. Along with Grand Marshal Marie Osmond, the LA Galaxy, LA Mayor Antonio Villaraigosa, Council President Eric Garcetti and Councilman Tom LaBonge, were over 100 celebrities participated in the parade including world champion trick roper Rider Kiesner. Introduced by parade hosts Erik Estrada and Laura McKenzie, Estrada started off by announcing, "Here were have Long Tom Branner, the all around World Champion Buckaroo, from the western story, 'Ride 'Em Cowboy.' He stands 6 stories tall, representing the over 30 western stories written by L. Ron Hubbard from the Stories from the Golden Age (Galaxy Press).Kiesner accompanied the 6-story tall Long Tom Branner, champion cowboy buckaroo from L. Ron Hubbard's "Ride 'Em, Cowboy," one of over 30 westerns in the 80-book line called the Stories from the Golden Age."
Kiesner was performing his award winning rope tricks on the red carpet to the music of "The Devil Went Down to Georgia" by the Charlie Daniels Band. Parade announcers Eric Estrada and Laura McKenzie commented, "Rider has tricked his way through the Middle East, Asia, and Latin America, and tonight he's impressing the crowds down on Santa Claus Lane."
After the parade, Kiesner was interviewed and stated, "I've done over 100 parades and this was by far the biggest I've done." He continued, "The red carpet performance was pretty cool," where he performed in front of the grand stands and TV cameras.
In addition to the 6-story tall cowboy balloon representing the western genre of stories written by L. Ron Hubbard, there were four other large balloons of characters, including a pirate and treasure chest for the adventure stories; and, an astronaut and moon for the science fiction genre.
Stories from the Golden Age contains 153 stories all written by Hubbard during the 1930s and 1940s—in genres ranging from Mystery to Thriller, Science Fiction and Fantasy to Adventure and Western, using his own and fifteen pen names—widely considered America's Golden Age of Fiction. The print version of each work includes the pulp fiction artwork that originally accompanied the story in magazine publication. In addition, each title offers a full-cast, unabridged audio theatrical presentation complete with theme music and sound effects. For more information on the books and audiobooks go to http://www.goldenagestories.com.
###