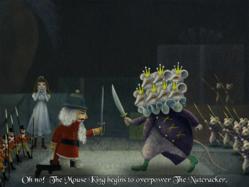 Visually stunning and the glorious music is seamlessly integrated with the images.
Long Beach, CA (PRWEB) November 30, 2011
Mouse King Media has released its new family-oriented Christmas application, The Nutcracker Musical Storybook App, for the iPad, iPhone and Android devices.
This unique app was created for children and adults alike as an entertaining and educational introduction to the story and music of the Nutcracker Ballet. Users join Clara and The Nutcracker Prince as they partake in a Christmas Eve storybook adventure encountering The Mouse King, The Sugar Plum Fairy and all the citizens of The Kingdom of Sweets.
Yoko Tanaka, acclaimed London-based fine art painter and children's book illustrator, hand-painted each of the animated images for the twenty-five Chapters of the storybook.
A total of twenty-seven fully orchestrated musical arrangements of Tchaikovsky's score are included. Dance of the Sugar Plum Fairy, Waltz of the Flowers, Trepak, Nutcracker March, Chinese Dance and many other favorites are featured. Numerous interactive touch-sensitive special effects sounds can be discovered within the Chapters.
Co-founder of Mouse King Media, Paul Zibits, states, "I've been passionate about The Nutcracker Ballet ever since the first time I performed it as an orchestra musician. It's usually a child's first visit to the ballet and we want to enhance that experience for all families."
Charles Barker, Principal Conductor for American Ballet Theatre says, "Visually stunning and the glorious music is seamlessly integrated with the images. This app is a wonderful introduction to Tchaikovsky's Nutcracker for any age."
The app can be used in two separate modes:
Storybook Mode allows the user to flip through the chapters forward or backwards at her or his own pace. Individual chapters can also be easily paused and replayed.
Movie Mode lets the user sit back and watch the entire story from beginning to end without interruption.
On the iPad2 the app can be streamed to an HDTV and sound system via AirPlay for a virtual concert hall experience.
Artist, Yoko Tanaka says, "I'm so happy about this project and hope that all the children in the world will enjoy watching this!"
Nutcracker lovers everywhere can follow Maggie The Minion Mouse via Twitter @MaggieTheMouse for fun facts about The Nutcracker Ballet during the holiday season.
The Nutcracker Musical Storybook is now available at iTunes, Android Market and the Amazon Appstore for Android for $2.99.
About Mouse King Media
Mouse King Media was founded by Paul Zibits, Andy Zibits, and Yoko Tanaka as a developer of applications for iOS and Android devices and is dedicated to providing premier family-friendly content for all mobile platforms.
###