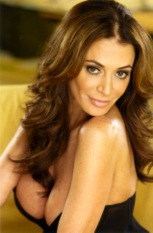 Beverly Hills, CA (PRWEB) November 29, 2011
Former Playboy Playmate Ava Fabian, who recently retained Family Law and Divorce attorney Evan T. Sussman, Founder of Sussman & Associates, has filed a lawsuit against Journey Guitartist Neal Schon (Marin County Superior Court CIV1105658), whom she lived with ''in a marriage like relationship" from February 2010 to September 2011. Ava and Neal got engaged in Mid December 2010, and exchanged vows on July 6, 2011 in Paris, France.
The couple ended their relationship in mid-September 2011, around the time that Neal Schon made public headlines due to his relationship with Michaele Salahi of the Bravo reality TV show, "Real Housewives of D.C."
In the Lawsuit, Fabian states that during their time together they accumulated joint property and income, and that Schon agreed to support her during the relationship and, if it ended, he agreed to provide additional support for ¨a period of time.¨ Fabian claims that she ''devoted her sole time and energy" to managing Schon's affairs, including making the residence ''presentable for parties and gatherings," attending to Schon's mother and his children from previous relationships, and attending 'to his every need to the detriment of her own career," which resulted in her declining promotional opportunities due to Schon's personal demands.
Intentional Tort Cases such as Intentional Infliction of Emotional Distress have a punitive damage component and the damages are in part based on the Defendant's income and net worth to discourage them from committing such acts in the future. In such cases the damages can be in the millions of dollars. Fabian's lawsuit seeks an amount to be determined plus accrued interest for their express oral non-marital relationship agreement, in addition to any gains discovered later, and a court order compelling Schon to account for the property and earnings accumulated during their relationship.
About Sussman & Associates, APLC
Sussman & Associates, APLC has represented high profile individuals involved in the entertainment and sports industry as well as entrepreneurs in all aspects of family law including divorce, prenuptial agreement, child custody and support matters. Mr. Sussman is on the Board of Governors of the Beverly Hills Bar Association and is past Chair of the Beverly Hills Bar Family Law Section.
For more from Sussman & Associates, APLC, visit:
http://www.SussmanLawFirm.com
http://www.Twitter.com/SussmanLawFirm
http://www.Facebook.com/SussmanLawFirm
http://www.LinkedIn.com/in/EvanSussman
Media Contact
Carla Lopez
Carla(at)Lopez-Marketing(dot)com
(323)620-4237
###