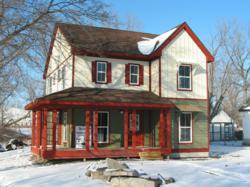 To keep windows in good operating condition (and to keep your warranty valid) it's important to never drill into, or puncture, the frame or sash of your windows.
Gary Pember - Simonton Windows
(PRWEB) November 30, 2011
Homeowners can help their families and guests get in the holiday spirit without going through the hassles of hanging outside lights. With easy holiday decorations for the entryway and windows, this is the ideal time of year to show off a home's exterior!
Experts at Therma-Tru® Corp., the nation's most preferred brand of fiberglass and steel exterior door systems, offer tips for creating a warm and inviting entryway during the holidays:
Hanging Seasonal Door Decorations:

Consider a twig wreath adorned with greens, gourds or berries.
Design a heart-shaped wreath with miniature pine cones and dye them a brilliant shade of red.
Mount an evergreen wreath or swag with glass ornaments or silver bells.
Create a wreath with magnolia leaves and fresh fruit such as pears, apples and pomegranates.
If you have a rustic style home, consider adding antlers, a cowboy hat or rope to your wreath.
For a coastal home, consider a wreath of woven sea grass with sea shells or a brightly painted life preserver with lights and decorative glass floats.
If your door doesn't merit all the attention, consider wrapping it in bright paper with a large bow or framing it in lights.
Hang a set of sleigh bells on the door knob, which will give a festive jingle every time guests pass through.
Accessorizing Your Doorway:

Frame your entryway with a garland and lights – add bows or pine cones for more decorative detail.
Place pots or urns planted with seasonal greenery, poinsettias and lights on either side of the doorway.
Put out a welcome mat designed with holiday accents.
Add new brass or nickel accents such as a kick plate, porch lights and a door knocker to dress up your door.
Hang matching wreaths in all of the windows.
Painting Your Door:

If it's not yet too cold to paint outdoors, brighten up your door with a fresh coat of red paint or a strong color that provides contrast to your current color scheme. Made especially to accept paint, Therma-Tru® Classic-Craft® Canvas Collection™ entry doors feature a smooth surface that's ideal for adding custom color to the home.
Do's and Don'ts of Decorating Doors

When decorating, be careful to protect your door. Avoid putting a nail in the face of the door, as this can lead to damage in the future and could void your door warranty from the original manufacturer.
Use a door hanger to hang a wreath from the door knocker, or place a tack on the top of the door frame and use clear fishing line to hang a wreath.
When it's time to decorate your windows, the experts at Simonton Windows® have provided a list of tips for decorating vinyl windows during the holiday season.
"Our windows are carefully constructed to provide maximum energy efficiency, aesthetic appeal and comfort for homeowners," says Gary Pember, vice president of marketing for Simonton Windows. "To keep them in good operating condition (and to keep your warranty valid) it's important to never drill into, or puncture, the frame or sash of your windows. Plus, in case of an emergency, egress windows should never be blocked by furniture or holiday decorations."
Santa's Simonton Elves got together to recommend the following "naughty and nice list" of ideas for windows during the holiday season:
Window No-No's:

Never put nails or screws in a vinyl window frame to hold up decorative lights or holiday wreathes. Also, do not glue, staple or tape lights to a window frame.
Do not place lit candles on a window sill, nor the edge or sash.
Never decorate windows with anything that could impede opening your windows quickly, in case you need to use the window as an escape route during an emergency. For example, don't wrap garland ropes or artificial pine branches around the window hardware.
Do not place real pine branches or cones on the window frames or sill. Fresh pine sap can leave nasty stains after the holiday season is over. Realistic, artificial pine is usually available at craft stores around the holidays.
Although tempting, do not spray "fake snow" from aerosol cans on your windows. The "snow" residue can be hard to remove after the holidays and can hamper the operation of your window if it sticks into the sash or hardware.
Santa-Approved Window Decorating Tips:

Affix suction cups on the window glass to hang glass ornaments, plastic snowflakes or glass icicles so that light can come through the windows to enhance the decorations.
Hang small wreaths on the inside of a double or single hung window by using suction cups with hooks. Use clear fishing line to loop the wreath gently over the window hardware.
Swags of garland or evergreen wreaths outside the home may be put up best by affixing to the siding of the house and not to windows themselves.
Bay and bow windows are the ideal location to position a Christmas tree for maximum viewing, from both the interior and the exterior of the home.
Make your curtain rods work during the holidays. Remove the curtains and hang ornaments from the existing rods on different lengths of fishing line or colorful curling ribbon.
No curtain rods? Just add some inexpensive tension curtain rods to the top or middle section of your windows. Hang decorations from the rods with fishing line or garland. Decorate the rods themselves with holiday ribbon or fabric.
Encourage children to help decorate the windows with static cling holiday window stickers. The peel-and-stick temporary decorations are ideal for putting your home in the holiday spirit.
About Therma-Tru
Therma-Tru is the nation's leading manufacturer and most preferred brand of fiberglass and steel exterior door systems. Founded in 1962, Therma-Tru pioneered the fiberglass entry door industry, and today offers a complete portfolio of entry and patio door system solutions, including decorative glass doorlites, sidelites and transoms, and door components. The company also offers low-maintenance Fypon urethane and PVC products. For more information, visit http://www.thermatru.com, http://www.fypon.com or call (800) 537-8827.
About Simonton Windows
Celebrating its 65th year of quality manufacturing operations in 2011, Simonton Windows produces ENERGY STAR® qualified replacement and new construction windows and doors, including a line of impact-resistant products. Simonton ranked "Highest in Customer Satisfaction with Windows and Doors, Two Years in a Row" in the J.D. Power and Associates 2010-2011 Windows and Patio Doors Satisfaction Studies SM.
Simonton was also ranked #1 in quality in the 2009, 2007, 2002 and 1998 Brand Use Studies sponsored by Builder magazine and has won three Best In Class Awards administered by LBM Journal Research Institute.
Founded in 1946, Simonton's hallmark has been to deliver the industry's shortest, most dependable lead-times. Simonton delivers award-recognized products nationwide to key markets throughout the 48 continental United States. Simonton is a founding sponsor of The Weather Museum and a supporter of Homes for Our Troops. For information, call (800) SIMONTON (1-800-746-6686) or visit http://www.simonton.com.
###