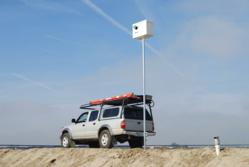 We want to promote conservation and education without compromising the bottom line of private enterprise.
Newhall, CA (PRWEB) November 30, 2011
Equipped with a cadre of tools, a roof-rack carrying extension ladders, and a truck bed full of custom made homes for owls, Southern California businessman Glenn Prichard sets out to carry out a life mission---protecting wildlife while promoting business.
"How good is that?" asks Prichard, a veteran of the small business world. "Putting up these boxes throughout our region makes it possible for barn owls, perhaps the most efficient rodent management tool on the planet, to reproduce safely." He adds, "The benefits are incredible and farmers know this as they adopt our program and redirect needed resources toward other expenses during today's tough economy."
Prichard, no stranger to working to expand critical thinking about wildlife protections, is a board member of an Idaho based predators studies program and nonprofit called the Wolf Education & Research Center (WERC) and volunteers at many local California facilities that focus on rescue and rehabilitation.
What makes this all work is the collaboration between WERC and Nature's Remedy, the company Prichard formed to promote the social enterprise. The president of that nonprofit, Chris Anderson also founded an online science company named Owl Brand Discovery Kits in 1996. And today, the three organizations have teamed up to form The HOOT Project.
"Our goal is simple," explains Anderson, "we want to promote conservation and education about sound ecology practices without compromising the bottom line of private enterprise. Most farmers want these same outcomes. The HOOT Project makes it possible by sharing the burden of our mutual but sometimes evasive interests. Glenn and I want to put our money where our mouths are---well, perhaps where the owls' mouths are."
Nature's Remedy has erected more than 60 nesting boxes in the last six months with plans to provide homes for at least 100 each year. The project is paid through modest leases of the installation service and through donations to the WERC Predator Conservation & Studies Program.
Prichard explains "It costs about $100 just to build a quality and durable nest. A donation of $250 will cover the life of the home, about 5 to 7 years. I'll do it whether the donations come in or not."
"We give toward what we place value in, right?"
Learn more by visiting their Facebook page at http://www.Facebook.com/TheHOOTProject. Tax deductible donations can be made toward this program to the Wolf Education & Research Center at http://www.wolfcenter.org/donate. WERC is an IRS approved nonprofit since 1996. Learn more about Owl Brand Discovery Kits at http://www.obdk.com.
###