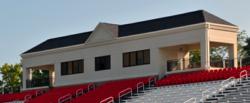 ...schools can definitely create a new revenue stream through the addition of VIP Suites to the press box facility.
Louisville, KY (PRWEB) November 09, 2011
Dave Giffen, President and CEO of American Press Box(APB), believes combining VIP suites with press boxes can be beneficial for many high school football programs. He explained, "The concept is not right for every high school football program. On the other hand, schools with strong fan bases and ongoing support from alumni can definitely create a new revenue stream through the addition of VIP Suites to the press box facility and bleacher, grandstand complex."
Professional and college programs have been earning literally millions of dollars over the past 30 years offering suites to their corporate fans. The cost of construction however has made the concept unrealistic at the high school level. Giffen explained the cost to construct a VIP Suite, "Adding a VIP Suite to an existing grandstand can be an expensive proposition when doing so requires on-site construction. For example a small, simple 10' by 10' addition can cost as much as $90,000. Our turnkey process, using a prefabricated suite, is half the cost. When combined with the addition of a press box a 10' by 10' suite addition can be as low as $20,000."
On the revenue side of the equation Giffen says the cost can be recovered in three to five years, "The time frame for recovering the cost and generating revenue depends largely on the financial strength of the fan base and alumni support. A 10' x10' suite can be sold on an individual or corporate basis and easily generate $5,000 annually."
The width of a standard suite from APB is 10' and the length is typically quoted in 10' increments. Custom sizes are commonly quoted. The interiors are all custom designed per the buyers specs. "Virtually anything that is desired for functionality or appearance can be added," said Giffen.
Giffen explained the ideal time to add suites to a high school football grandstand or bleacher complex is when adding or replacing the press box. "Many schools find their grandstand long outlives the original press box and it needs to be replaced. Potential liability issues are a very common reason for replacing old, unsafe press boxes. The economics for VIP suites make the most sense when building a completely new press box or replacing an existing structure. The added cost for the VIP suites can be offset relatively quickly. A new, and substantial revenue stream will be seen within 5 years. Bottom line is aggressive athletic departments and booster clubs can benefit from VIP suites."
APB is the only supplier of prefabricated press boxes that offers a turnkey process from design to final installation. There is no need to pay for design work or hire general contractors. Giffen says the turnkey process is one of the main reasons their press boxes (and suites) are so cost competitive, "We coordinate everything from design to manufacturing to installation. Our customers have one point of contact for every piece of the construction including the under-structure."
Giffen also pointed out the timeline from inception to final walk through and opening day is shortened, "We are very focused on this business and therefore we are able leverage our experience on virtually every job. This experience cuts the completion time down dramatically. Our standard designs can be installed in less than 12 weeks from the date of order.
APB recently created a website (http://www.americanpressbox.com) to showcase their designs. Visitors can see a variety of press boxes and VIP suite concepts. The website is a good resource for anyone considering adding a press box or VIP suite to a grandstand complex.
About APB –
American Press Box is a division of Sightlines Inc, based n Louisville, KY. Sightlines sells and markets grandstands and bleachers. APB focuses on press boxes, concession stands, storage facilities, restrooms, and ticket booths for both college and high school football complexes. APB is the only supplier of press boxes offering a turnkey process from design to installation. For more information visit APB website http://www.americanpressbox.com or contact them at 866-518-2330.
###