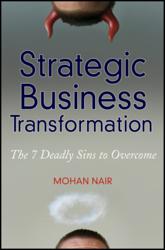 Hoboken, NJ (PRWEB) December 02, 2011
Markets, in the past, were assumed to be constantly changing, and it is no surprise that if leaders did not keep up, they would be left in the dust. But many times these market shifts were predictable. Today, markets transform more because of the impact of "unknown unknowns", those unanticipated market variables that businesses only start predicting when they actually appear. How do organizations facing these unknown unknowns in transforming markets find true worth? In recent years, the music industry was blind-sided by Napster and the digital music fallout; smart phone leaders like RIM and Nokia were clobbered by Apple; and mega bookstore chain Borders finally closed up shop largely due to Amazon.com. On the other hand, companies that recognize change is in the air, and are prepared for market shifts, not only prevail but soar to new competitive heights. New from John Wiley & Sons, STRATEGIC BUSINESS TRANSFORMATION: THE 7 DEADLY SINS TO OVERCOME ($49.95; Available Now) shares insights, strategies, and real-world examples to show readers how to navigate structurally transforming markets by avoiding the "Seven Deadly Sins" of business. Sharing his extensive strategic advisory experience and fresh off his successful Tedx presentation, author Mohan Nair lays out the framework for understanding and withstanding business transformation, especially when traditional practices become incompatible with the new market developments.
Readers will discover that true change is only possible when a corporation is motivated by a cause greater than themselves that will, in turn, inspire the workforce.
STRATEGIC BUSINESS TRANSFORMATION provides an outline for businesses to create a strategy that will allow them to develop a new market for themselves by avoiding the common pitfalls, or "the 7 deadly sins", including:
•Ignoring the new principles of business transformation
•Driving without a cause
•Missing market momentum
•Ignoring the two orders of value
•Overlooking transformational servant leadership
•Mistaking capability for strategic competence
•Expecting flawless execution without a performance platform
STRATEGIC BUSINESS TRANSFORMATION shows readers how to design a business structure that will not only withstand changes in the market, but will also provide the edge to make the competition irrelevant. Now business leaders can prepare for market shifts before it's too late.
ABOUT THE AUTHOR:
Mohan Nair (Lake Oswego, OR) is Chief Innovation Officer for the largest health solutions company in the Northwest. He also founded Emerge Inc, in 1993., a strategic advisory firm focused business transformation and leadership, , and was an Adjunct Professor at Kellogg School of Management at Northwestern University in Chicago for over ten years. He has served in key business roles in Intel, Mentor Graphics Corporation as well as been President of two emerging companies that had successful exits. He is author of two other books in cost and performance management. He is a frequent speaker and has been profiled and quoted in Forbes, IndustryWeek, and Business Finance magazine. In 2009, the Marketing Leadership Council of the Corporate Board highlighted him as a "Marketing Thought Leader."
STRATEGIC BUSINESS TRANSFORMATION
The 7 Deadly Sins to Overcome
Published by John Wiley & Sons, Inc.
Publication date: October 10, 2011
$49.95; Hardcover; 216 pages; ISBN: 978-0-470-63222-2
###