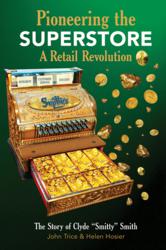 As a competitor, I watched what he did, applied what I saw, and experienced what he did - great success."

-David Dillon, Chairman of the board and CEO of Krogers
Dallas, TX (PRWEB) December 05, 2011
In 'Pioneering the Superstore: A Retail Revolution' (Brown Books Publishing Group), Superstore Pioneer and Visionary Clyde "Smitty" Smith recaptures an era when store employees and customers treated each other with respect and going shopping was an exciting adventure, rather than the unpleasant chore it is for many today.
"Pioneering the Superstore" offers readers important lessons coupled with valuable information that the retail industry would do well to reconsider today,
When asked about the fundamentals of retail, Smith shares advice that sounds antiquated in today's mainstream malls: "Work hard, be fair, be truthful and have honor and integrity...share the profits and put the customer first."
Many modern corporations have shunted these principles aside, but throughout Smith's story, readers can see that they are more vital than ever in today's world.
"As a competitor, I watched what he did, applied what I saw, and experienced what he did - great success," says David Dillon, Chairman of the Board and CEO of Krogers. "Smitty's selling skills first impacted me when I worked for his main competitor, Fry's Supermarkets in the late 70s...Clyde was a trendsetter marketeer."
Moving from the coal mines to the sales floor, Clyde "Smitty" Smith describes himself as instantly hooked by the thrill of retail, from shelving merchandise to pleasing individual customers.
Smith's new store concept for one-stop shopping merged groceries, clothing, house wares, and even a family restaurant—innovations that still echo in modern superstore chains.
The World War II veteran never let the remarkable growth of his Arizona store chain, Smitty's,affect his ability to maintain personal relationships with customers, vendors, and employees, many of whom remember him and his store fondly to this day.
About Clyde "Smitty" Smith
The father of three daughters, Smith attributes his remarkable rise from the depths of the Great Depression to supermarket savant entirely to his family and his faith. He now lives in Boerne, Texas with his wife Peggy, cofounder of Smith and Smith Ministries. You can learn more about Smith and his book at http://www.smittysstory.com.
About Brown Books
Pioneering the Superstore: A Retail Revolution was published by Brown Books Publishing Group, a Texas-based independent publisher. For more information about the publisher please go to http://www.BrownBooks.com.
###