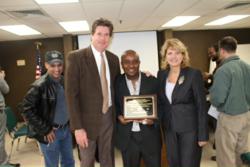 The Gold Star Awards acknowledges food establishments that not only continuously comply with food handling protocols, but also are constantly taking proactive measures to prevent the spread of food borne diseases
Islandia, NY (PRWEB) December 01, 2011
Whitsons Food Service at Estee Lauder in Oakland, NJ was awarded the Gold Star distinction for its food safety excellence and proactive measures to prevent food borne diseases.
Each year New Jersey's Bergen County Consumer Health Program presents the Gold Star Awards recognizing excellence in safe food handling practices. This program, sponsored by the Bergen County Executive, the Bergen County Department of Health Services and the local Board of Health, acknowledges food establishments that not only continuously comply with food handling protocols, but also are constantly taking proactive measures to prevent the spread of food borne diseases.
This year, Whitsons Food Services, operating at the Estee Lauder – Aramis branch, was nominated to represent the borough of Oakland for the Gold Star Awards. This is a great recognition to the food service management and personnel at this location who are always striving to achieve excellence in quality of food and service and to follow the company's mission of "enhancing life one meal at a time".
Whitsons Corporate Dining provides dining services to public and private entities, fulfilling their unique dining needs with a strong focus on high quality menus made from fresh and wholesome ingredients. Whitsons is a family-owned business with a long and proud history of excellence and growth since 1979 and currently ranks the 16th largest dining company in the United States (Food Management magazine, September 2011). In addition to corporate dining, Whitsons' scope of expertise and services extends to: school nutrition, culinary development, residential and healthcare dining, delivered meals, emergency dining, gourmet catering and vending services.
###