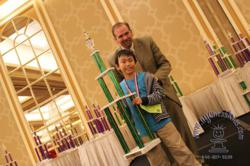 Only someone with great talent can score 7 out of 7
New York, NY (PRWEB) December 07, 2011
NYChessKids.LLC and thousands of players from all over the country arrived for the National K-12 Championships in Dallas, Texas on November 18-20. The tournament event was organized into sections by grade. They also had other fun activities which included a bughouse and family and friends tournament.
The turn out was amazing, especially for Marcus Miyasaka, the very young chess prodigy. At only age of 9, Marcus took the gold at the U.S. Chess Championship Tournament over the weekend. His performance in the tournament was brilliant as he won all seven games! Marcus was the only undefeated player in the 3rd Grade Championship. The results were amazing; it's not easy to win all games. Only someone with great talent can score 7 out of 7.
Marcus is a third grader attending Ethical Culture School in New York. He is currently part of the NYChessKids community. His family made a fantastic decision in hiring Chess Grandmaster Miron Sher, one of the best private chess teachers for advanced kids. He did a remarkable job in teaching Marcus for two years private chess lessons. He attended many of NYChessKids Chess Camps and Tournaments. Couple weeks ago, he joined NYChessKids for the P.S. 116 Tournament and P.S.77 Lower Lab School Tournament. Marcus is a very bright and intelligent focused boy. With his dedication, hard work, and most of all passion for chess, he improved greatly and has gone a long way.
His brother, Matthew Miyasaka, also did an amazing performance at the tournament as he was one of the top three in the 5th Grade Championship. Matthew, two years older than Marcus, attends Ethical Culture school as well. NYChessKids is very proud of Matthew for a great performance.
Julia Miyasaka, the sister of both brothers, played in the tournament as well in the Kindergarten section. She scored 3 points. She is a wonderful, talented girl who loves chess very much. Julia recently played at P.S.77 Lower Lab School Tournament where she won first place. She has a lovely future ahead of her and will become a great chess player just like her brothers.
NYChessKids congratulates Marcus, Matthew, and Julia on their results & performance. Keep up the hard work and dedication.
###