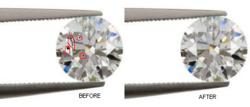 Our advanced clarity enhancement process enables customers to buy a larger diamond than they would usually be able to afford
(PRWEB UK) 14 December 2011
Previously a secret not widely known outside of the trade, http://www.biggerdiamonds4less.co.uk are the first on-line Company in the UK to specialise in clarity enhanced diamonds and pass on the huge savings to their customers.
Their clarity enhancement process takes a 100% natural diamond that has visible imperfections and makes these invisible to the naked eye. The flaws are now less obvious and can only be seen under x10 magnification.
'We think of it as cosmetic surgery for diamonds and enables us to sell a more beautiful and larger diamond than you might get from another company supplying you an untreated stone for the same price' states Richard Burgess, Managing Director. The bottom line is that clarity enhancement enables customers to buy a larger diamond than they would usually be able to afford. The choice is yours whether to spend your hard earned money on a less impressive, small conventional stone or a larger, really beautiful, stunning diamond ring which will look a million dollars!
Clarity enhancement was pioneered over twenty years ago and has now become an accepted method to improve the natural beauty of a diamond. It is important to stress that you are still buying a genuine, 100% natural diamond and it is just a case of taking the preparation of the stone a step further, optimising each individual diamond's inherent characteristics, fire and brilliance. Burscarf claim their advanced process produces permanent results, head and shoulders above the competition and each certified diamond comes with a lifetime guarantee.
Richard goes on to add, 'Placing emphasis on maintaining high standards has been the key to our success. We don't cut corners using cheap imported settings and all our jewellery comes in expensive wooden boxes, so everything exudes quality when it reaches our customers. We overcome anxieties about buying on-line by being 100% honest, upfront and transparent during the purchase process and our customers are protected by our no-quibble 14 day money-back guarantee.'
You may be wondering if there are any disadvantages of clarity enhanced diamonds or should they be treated any differently from conventional stones. Importantly, The Gemological Institute of America (GIA), perhaps the most respected independent diamond laboratory in the world, has stated that clarity enhancement is in no way detrimental to the natural diamond nor will it effect the stone's natural hard wearing properties or weight.
The company specialises in large solitaire diamond engagement rings, pendants and earrings from ½ to 6cts. Typically a good quality 1ct diamond engagement ring in the high street will cost between £9000 to £10,000, but Burscarf can sell you the same size ring, with an equally dazzling, white diamond from £2850, a saving in excess of 70%! The company also offers designer diamond earrings from £135 and designer diamond necklaces from £165
It is only viable to enhance diamonds 0.3ct or larger as improvements to smaller stones are negligible. All the diamonds in their Signature Range are clarity enhanced, but the smaller diamonds featuring in the Designer Collection, remain untreated and are selected for their natural sparkle, whiteness and brilliance.
Readers wanting to know more can download their free diamond buying guide'Discover 5 Diamond Trade Secrets The Professionals Do Not Want You To Know And Save 70-80% Off High Street Prices'
###