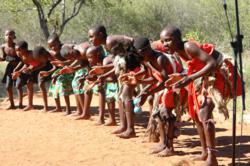 AIDS currently claims ten times more lives than war.
Harare and Madrid (PRWEB) December 01, 2011
Doctors Without Borders/Médecins Sans Frontières (MSF) today launched a music project, "Positive Generation: Voices for an AIDS-free Future," based on songs created by HIV support groups in Zimbabwe and recorded with Zimbabwean and international artists, including Alejandro Sanz, Paula Fernandes, Estelle, Oliver TUKU Mtukudzi, ten Zimbabwean choirs, and many others. The music aims to raise awareness about the reality of HIV/AIDS in sub-Saharan Africa by highlighting how people on treatment can still live a 'positive' life. The project also highlights the importance of programs that prevent mother-to-child transmission of the virus, and warns of the consequences that current global funding shortfalls for HIV/AIDS programs would have on the lives of thousands of patients.
MSF is using music to raise awareness about the virus in Zimbabwe, to educate patients and their families that they are not alone, to inform them that treatment can stabilize the illness, and to end stigmatization of HIV/AIDS patients. Support group choirs, largely made up of Zimbabweans living with or affected by the virus, offer an open, positive approach to HIV/AIDS education. Their testimonies and songs raise awareness about how to prevent the spread of the disease and encourage people to seek HIV diagnosis and treatment.
"With this project, we want to pay tribute to a generation of people who are living 'positively' with HIV. Their testimonies transmit positive messages and help fight stigmatization. With MSF's operational experience in HIV care since 2000, and the latest progress in HIV science, we know that an AIDS-free generation is possible if effective programs are implemented on the ground. We need to keep fighting to reach this goal," said Mari Carmen Viñoles, head of MSF's mission in Zimbabwe.
Through "Positive Generation," MSF aims to bring attention to the recent progress made in the fight against HIV/AIDS, and to warn of the threats that could stop or even reverse progress. Recent research has shown that early treatment not only saves lives, but also has a significant impact on reducing HIV transmission and preventing new infections.
Zimbabwe, the country with the third highest HIV burden in Southern Africa, where 14 percent of adults (about one million people) and 150,000 children are currently living with HIV, has taken ambitious steps to improve HIV/AIDS services. Zimbabwe has seen positive results: currently 63 percent of those in need of antiretroviral therapy (ART) are receiving treatment, up from only 5 percent in 2006, and expanded ART coverage has reduced annual AIDS deaths by 42 percent since 2006.
This progress, which could mean a future free from HIV, is threatened by a lack of funding and program closures. Zimbabwe, like many other high prevalence countries, will require additional funding in the coming years, yet AIDS funding is currently being cut back globally, as confirmed by the decision by the board of the Global Fund for AIDS, Tuberculosis and Malaria to cancel Round 11 funding.
"We are facing a serious situation. We are seeing some of the most promising developments in more than a decade of treating patients living with HIV/AIDS, with the potential to turn this epidemic around. Yet these promises will come to nothing if there is not enough funding; we are even running a serious risk of losing ground in the fight against HIV/AIDS," said Paula Farias, project coordinator of Positive Generation.
Without donors making every effort to fulfill their pledges and step up to meet the real needs on the ground, countries with high HIV prevalence will inevitably face disruptions to their programs. Consequently, gains made through previous investments will be lost and real opportunities for programs to demonstrate high impact will be missed.
More funding is also crucial to ensure that attention is paid to pediatric HIV care through targeted strategies and adapted treatment, and to implement prevention of mother-to-child transmission programs. These are key strategies to achieving an AIDS-free generation in countries with a high HIV prevalence such as Zimbabwe.
The project "Positive Generation: Voices for an HIV free future," which includes a CD/book, a documentary, and a website, was launched internationally on December 1, 2011. The project is an MSF and Casa Limón production, managed and produced by the Spanish artists Alejandro Sanz, Antonio Carmona and Javier Limón, with voluntary contributions from musicians, composers and performers from around the world, such as the Zimbabwean Oliver TUKU Mtukudzi and Chiwoniso Maraire, Juan Luis Guerra (Santo Domingo), Carlos Vives (Colombia), Paula Fernandes (Brasil), Estelle (UK), Ali Amr (Morocco), David Broza (Israel), Karina Pasian (USA), Tino di Geraldo (France), Estrella Morente (Spain), Carminho & Diogo Clemente (Portugal), Andrés Calamaro (Argentina), Iván "Melón" Lewis (Cuba), Miguel Campillo elbicho (Spain) and Ariadna Castellanos (Spain).
Doctors Without Borders/Médecins Sans Frontières (MSF) is an international independent medical humanitarian organization that delivers emergency aid to people affected by armed conflict, epidemics, natural and man-made disasters, and exclusion from health care in more than 60 countries and was the recipient of the 1999 Nobel Peace Prize.
# # #