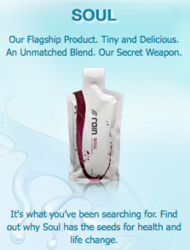 Provo, Utah (PRWEB) December 02, 2011
Rain International, LLC (http://www.rainintl.com) is pleased to announce that it has acquired Rain Nutrition, LLC; a seed based nutritional company based in Highland, Utah for an undisclosed price. Rain International has purchased all of the assets of Rain Nutrition, including all formulas, research and trademarks.
"Our acquisition of Rain Nutrition will further solidify the competitive advantage Rain International enjoys with the science of seed nutrition with exclusive access to Rain Nutrition's breakthrough work on the nutritional value of seeds," said President, Craig Taylor. "This acquisition also makes financial sense, as we will no longer incur royalty obligations on products developed by Rain Nutrition. Overall, we believe that this acquisition of Rain Nutrition will enhance our pipeline of next-generation seed nutrition products for many years to come. Thus allowing us to provide a steady stream of innovative seed based products aimed at helping people live a more healthy life, longer."
"This announcement is a huge milestone in the history of Rain International," said Executive Vice President, Byron Belka. "This announcement dispels the buzz regarding the acquisition of Rain Nutrition by another MLM company. We are alive and well, ready to grow globally and are excited to partner with people all over the world. Additionally, this purchase allows Rain International to open its doors to the North American markets giving us the opportunity to accelerate the growth of Rain International locally like we are doing in our other markets around the world."
Rain International partnered with Rain Nutrition in 2010. Since that time, Rain Nutrition's proprietary research on seed nutrition supported Rain International's efforts. The acquisition will further enhance Rain International's position as a leader in the seed nutrition industry by bringing Rain Nutrition, a company based on many years of seed research, in house.
About Rain International
Provo, Utah-based Rain International is building and delivering seed-based nutritional products to support and sustain long term health. The science behind the product development stretches back centuries to cultures that understood that seeds carry powerful nutrients and anti-oxidants in their extracted oils and flours. For more information please e-mail us at info(at)rainintl(dot)com or visit us on line at http://www.rainintl.com.
###