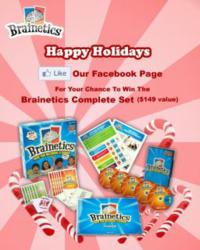 Brainetics is a great way to break up a routine and have fun...
Seattle, WA (PRWEB) December 02, 2011
DNA Response, Inc., provider of interactive marketing and order management, has launched a holiday-themed Facebook Sweepstakes for its math and brain games store, ShopBrainetics.com.
Users will enter to win the Brainetics Complete Set, which includes five educational DVDs, flashcards, playbook and a manual. To enter, users must "Like" the ShopBrainetics Facebook page and fill out the sweepstakes form in order to qualify. The winner will be announced on Tuesday, October 6, 2011.
The Brainetics system was developed by math genius Mike Byster, who can solve the most complex multiplication, division and other math problems in his head. Brainetics teaches a set of tricks and shortcuts that help solve math problems very quickly, like Byster. In addition, Brainetics improves concentration and memory skills by engaging different parts of the brain. It is an extremely fun way to learn for anyone older than nine years old, including adults, and is a great activity for families. This product has been featured on the "20 20" show and "Fox New York" and won the Parent's Choice Award.
The Brainetics Complete Set has also received a positive review from the Teaching Blog Addict- a social network community for educators that allows them to share teaching tips and fun educational resources.
"Brainetics is a great way to break up a routine and have fun, while learning at the same time," wrote Erin Klein from the Teaching Blog Addict. "It is stimulating and engaging for all ages and ability levels and you can play in a group or by yourself."
About DNA Response. DNA Response, Inc. (DNA) provides turnkey e-commerce, online marketing, and order management services to companies in the $300 Billion direct response market. DNA clients sell products direct to consumers using TV, radio, print catalogs, web and mobile as their sales channels. DNA's ECOM2TM platform utilizes state-of-the art cloud computing technologies and services to improve operational efficiency by reducing transaction costs, eliminating credit card declines, and lowering order cancellations and product returns, while simultaneously increasing online revenue for our clients. DNA provides universal order management for processing orders in real time from all the sales channels with full visibility to the business for the clients. DNA generates incremental revenues and helps build a brand for our clients by providing comprehensive e-commerce and online marketing services.
###