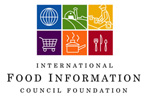 "Some people think omega-6 fatty acids should be avoided because they're inflammatory, which actually is not true," said Harris.
Washington, DC (PRWEB) December 01, 2011
The holidays are a time of festive family gatherings and meals, but also a time when many people will be worried about their fat intake. The 2011 International Food Information Council Foundation Food & Health Survey found that many consumers are confused about what kinds of fat they should consume. The survey found that 71 percent of Americans are trying to limit some type of fat in their diet, but in many cases, adding fats into the diet can bring the holiday treat of added health benefits.
Today, in a special IFIC Foundation webcast, expert Bill Harris, PhD, Director of the Cardiovascular Health Research Center at the Sanford School of Medicine, University of South Dakota highlighted the many benefits of consuming polyunsaturated fats like omega-3 and omega-6 fatty acids while addressing some of the controversy surrounding the use of a ratio between these two fatty acids in dietary recommendations.
"Some people think omega-6 fatty acids should be avoided because they're inflammatory, which actually is not true," said Harris. "Some metabolites of omega-6's are inflammatory and some are anti-inflammatory. The problem, however, is not the prevalence of omega-6 in the American diet; it's the lack of omega-3's, which are less inflammatory."
Additional insight on fats from Dr. Harris can be found in the lead feature in the upcoming December Food Insight Newsletter. In addition, the IFIC Foundation has several new resources on fats including a "Facts on Fat" video featuring insights from Eric Decker, PhD, Professor in the Department of Food Science at the University of Massachusetts and Bonnie Taub-Dix, MS, RD, author of Read It Before You Eat It.
"The healthy fats are the ones that are in almonds, avocados and oils. Those are fats that should be added to the diet on a regular basis because they make food taste so good and give food their creamy texture and great taste, but proceed with caution with portion sizes, especially if you're watching your weight," said Taub-Dix.
Additional IFIC Foundation resources on fats include:
Fat Matters: Understanding Dietary Guidance on Dietary Fats
The Truth about Fats and Oils and Health
Functional Foods Fact Sheet: Omega-3 Fatty Acids
Omega-6 Fatty Acids and Health Fact Sheet
For more on International Food Information Council Foundation dietary fat and other nutrition resources as well any other questions, please contact the IFIC Foundation media team at 202-296-6540, Mittenthal(at)ific(dot)org or Matthews(at)ific(dot)org.
The International Food Information Council Foundation is dedicated to the mission of effectively communicating science-based information on health, food safety and nutrition for the public good. The IFIC Foundation is supported primarily by the broad-based food, beverage and agricultural industries. Visit http://www.foodinsight.org
###