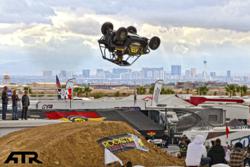 Tyler, Texas (PRWEB) December 03, 2011
Extreme Sports athlete Caleb Moore and All Terrain Research have pulled off the world's first successful ramp to dirt vehicle backflip, in Las Vegas Nevada November 2nd 2011. Caleb Moore had approached ATR with the plan to backflip a Polaris RZR and the team immediately got to work designing the ramp and custom UTV.
"We had always thought that a backflip could be done with a UTV, when Caleb came to us with his idea we jumped on board right away coming up with design ideas," said ATR's owner Jeremy Bratcher. Over the course of several months Caleb Moore and All Terrain Research collaborated to fabricate a monstrous freestyle ramp and one of the wildest UTVs ever designed. After months of planning and hard work the stage was set for this never before seen stunt. A show was booked for the backflip attempt to be performed for a live crowd at the worlds largest automotive trade show SEMA and the Lucas Oil Off-Road Race in Las Vegas that following weekend.
All Terrain Research is a group of engineers, designers and motorsports enthusiasts set out to develop the most advanced off road vehicle performance products possible. Bringing years of experience ATR serves as a full service prototyping and manufacturing company developing products for some of today's leading off road vehicle manufacturers. ATR manufactures a complete line of Side by Side ATV parts and accessories. For more information on their products and on the Polaris RZR Backflip project visit their website at http://allterrainresearch.net.
###