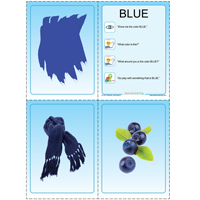 Chicago, IL (PRWEB) December 05, 2011
Special Learning, Inc., a comprehensive Autism solutions company, today introduced their latest product, the Special Learning Digital Flash Cards. This innovative tool utilizes high quality, attractive images to engage students throughout the learning process.
Special Learning's Digital Flash Cards is a downloadable Autism teaching product designed to teach individuals with Autism and other early language developmental disabilities using a simple, easy to use format. This product line includes 5 key subject areas including: Letters, Numbers, Shapes, Colors and Animals. Each set contains three different pictures or exemplars of each object. A key differentiating feature of these cards is the set of instruction on the back of each card designed to ensure accurate implementation of the lessons. Proper implementation, facilitated by using the instruction, can help to enhance skills acquisition as these cards are designed to be used effectively even for those unfamiliar with ABA instruction techniques.
With the help of Special Learning's Digital Flash Cards, introduction to the English alphabet, numbers, colors and common animals as well as teaching skills such as 2D Identical Matching, 2D-2D Non-Identical Matching, Object Labels, and sounds is as easy and fun as it can get. The Special Learning Digital Flash Cards can be downloaded for immediate use.
Special Learning's Digital Flash Cards is a small step in implementing the Company's commitment to make Applied Behavior Analysis therapies available to every person across the globe. By utilizing current and emerging technologies, Special Learning continues to work diligently in supporting individuals with Autism and other developmental disabilities to enable them to live more productive, meaningful and improved quality of lives.
About Special Learning (http://www.special-learning.com)
Special Learning is dedicated to becoming the global leader for Autism and Applied Behavior Analysis (ABA) solutions by leveraging technology to offer every person diagnosed with Autism Spectrum Disorder (ASD) attain an abundant and fulfilling life. Through their comprehensive information and resource portal, Special Learning provides the global Autism community with a broad range of free products, tools and services. Their comprehensive product line includes ABA training & education products, iPhone Apps, web-based & downloadable tools, and professional services designed to empower parents, teachers and providers so that they can help individuals with Autism move up the skills spectrum intuitively, successfully and affordably. Special Learning, Inc. introduces an easy and Innovative Way of Teaching Early Language to Children with their Digital Flash Cards
###