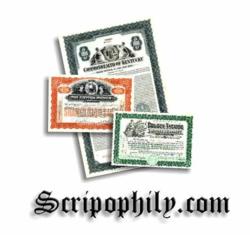 Washington, DC (PRWEB) December 06, 2011
Scripophily.com - The Gift of History is offering a Historic Wall Street Stock Certificate Calendar with each month featuring a unique certificate in full color. This is a wonderful gift for customers, employees, friends, collectors, students and business historians. The actual size of the calendar is 8 1/2" x 11" (perfect size for mailing) with 28 color print pages including the cover. This year's calendar includes selections from the Museum of American Finance, an affiliate of the Smithsonian Institute.
Months include December 2011 to December 2012. Each month has a color certificate on the top page, with the monthly calendar down below. "We are especially proud of this year's content and colors." according to Bob Kerstein. Founder and CEO of Scripophily.com . "Each certificate was hand selected for this calendar based on its artwork and historical significance." Kerstein added.
This wonderful collection of stock and bond certificate images includes a blend of beautiful artwork, historically important companies, and unique industries. These include certificates from The Cannon Ball Gold Mining Company - Colorado 1901, International Gordon Bennett Race - Chicago 1912, West Side Elevated Patented Railway Company - New York City 1869, Louisiana Purchase Exposition Company – 1902, Kansas City Base Ball Association (National League Team) - Kansas City, MO 1886, Santa Anna United States First Mortgage Bond signed by Mexican General Santa Anna (Santa Anna Bond) - Vera Cruz, Mexico 1866, Pneumatic Strength Test Company - Cleveland, Ohio 1892, Liberty Loan of 1917 (United States Government), New York Electric Vehicle Transportation Company (Electric Car Vignette) - New Jersey 1899, North American Underground Telegraph and Electric Company – New York 1889, Shadyside Operators, Inc. issued on October 29, 1929 (Date of Stock Market Crash), A Republican Institution stock certificate signed by Revolutionary War General Henry Dearborn as President 1821 – Boston , New York Stock Exchange Membership Certificate, and the Standard Oil Company early certificate #41 handsigned by John D. Rockefeller in 1875.
Scripophily (scrip-ah-fil-ly) is the name of the hobby of collecting old stock and bond certificates. Values range from a few dollars to more than $500,000 for the most unique and rare. Tens of thousands of Scripophily buyers worldwide include casual collectors, corporate archives, museums and serious collectors.
Scripophily.com - The Gift of History is the internet's leading buyer and seller of collectible stock and bond certificates and has had items on loan for display in the Smithsonian's Museum of Financial History in New York. The company has been featured on CNBC, USA Today, Baltimore Sun, and Washington Post and in many other media publications. The company also offers an old stock research service at OldCompany.com and offers high resolution scans for publications. Scripophily.com has over 17,500 selections including categories such as Frauds, Scandals, Bankruptcies, Dot Coms, as well as the more traditional industries.
Scripophily.com was founded by Bob Kerstein, a CPA who has more than 35 years of senior management experience in the Cellular, Cable TV, Satellite, Internet, Professional Sports and Entertainment Industries. Bob is also the President of the Professional Scripophily Traders Association (PSTA).
For more information on Scripophily.com®, visit http://www.scripophily.com, http://www.bob.com or call 1-703-579-4209.
###